Hyundai appoints new dealer in Gloucester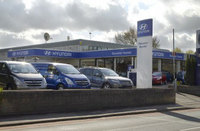 Situated in a superb location next to the famous Kingsholm Stadium, home of the Gloucester Rugby Team, this latest addition to Hyundai's nationwide dealer network will provide the Gloucestershire area.
Hyundai has confirmed the appointment of a new dealership in Gloucester. For the last 25 years the business has solely held a Saab franchise but as customer requirements change the showroom will now hold five Hyundai models and three Saabs.
Sales Director of Gloucester Hyundai Neil Marfell said: "We knew we had to make a change for our own business and our customers. People want more for their money in this current time and Hyundai offers just that without scrimping on the extras. I have been very impressed with the quality of the vehicles."
Developments to accommodate Hyundai at the Kingsholm site include a new showroom featuring Hyundai's latest corporate identity, plus an extensive parts department, which will service both trade and retail customers. The premises also include a modern workshop featuring the latest in high-tech equipment.
The new look creates an environment that reflects the Hyundai brand values of True Quality Matters. It gives the perfect environment to present the vehicles, cater for customers' needs and gives staff a motivating place of work.
Neil added: "We have stayed true to our central values of excellent customer service, outstanding quality of goods and integrity. The Hyundai franchise will allow us to bring these values to a bigger audience."
The appointment of Hyundai Gloucester brings the number of Hyundai dealers in Britain up to 133.