Whale-watching season begins in Samana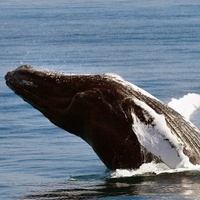 The country's whale-watching season is on the way. The annual pilgrimage of these marine mammals to the Bay of Samana, on the country's northeast coast, attracts more than 40,000 tourists each year. Visitors take the 30-minute boat ride in order to get a first-hand look at the magnificent humpback whales. The whales usually stay in the warm waters until March.
Visitors who do not want to get on boats to see the whales may use a brand new observatory to see them. The observatory was built by the Ministry of the Environment, and it is situated near the town of Samana. The whale-watching season generates tremendous enthusiasm among locals and international visitors. The Bay of Samana has been declared as the "home of the humpback whales" in the Caribbean. These huge marine mammals travel to the warm waters off the north coast of the Dominican Republic for their annual mating rituals.
The Bay of Samana is the only place in the Caribbean where visitors can observe the humpback whales that make the annual pilgrimage to these waters.
The Ministry of the Environment charges a fee for all those interested in observing the mammals. The Ministry is the institution responsible for the overall welfare of the whales during their pilgrimage to Dominican waters. A mandatory code of conduct regulates the management of the boats that go out to observe the whales. The northeast coast of the Dominican Republic, where the bay is situated, features a modern international airport, and excellent roads that connect the region with the rest of the country.
The Samana region is a mountainous peninsula marked by its close relationship to the surrounding waters of the Atlantic Ocean. The area is known for its lush tropical vegetation, and its mountains and pristine beaches are completely covered with thousands of coconut trees. Situated some two hours north from the capital city of Santo Domingo, the region now offers a modern international airport and a small facility for small aircraft.
About Dominican Republic: Rich in history, the Dominican Republic's first tourist was Christopher Columbus in 1492. Since then, it has developed into a diverse and luxurious destination offering both Dominican Republic and European flavours to more than 220,000 British visitors each year. A leader in eco-tourism, the Dominican Republic created the world's first Whale Sanctuary and has established protection zones for more than 20 percent of its land and coastal areas. The country boasts some of the world's best golf courses and beaches, the largest marinas in the Caribbean and is a chosen escape for celebrities, couples and families.
Visit the Dominican Republic Ministry of Tourism's official Web site at: godominicanrepublic.com