10 things you need to know about celebrating Prince Edward Island, Canada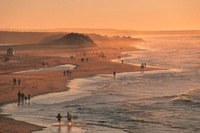 Make a beeline for Canada's smallest province as it commemorates the 150th anniversary of the Charlottetown Conference in a series of major festivals.
When Prince Edward Island celebrates the 150th anniversary of the Charlottetown Conference you will want to be there. After all, its an island of poets and politicians, oyster shuckers and lobster suppers.
PEI was home to the historic Charlottetown Conference in 1864 , a meeting of union minded colonial representatives that set the stage for Canadian Confederation. Ranked last year as the World's Top Island in the US and Canada by Travel + Leisure magazine , don't miss these top 10 PEI 2014 attractions.
1. Whoop it up: PEI Is the hot ticket for Canada Day celebrations , July 1. Join the day long concert featuring Canadian artists from across the country serenading crowds on the Charlottetown waterfront.
2. Country music on the beach. The Cavendish Beach Music Festival in mid July will bring 30 of the world's hottest names in country music to the coastal community.
3. Love the Lobster: Bibs are for feasting and fashion in PEI, where the wildly popular Summerside Lobster Carnival and St. Ann's traditional church lobster suppers are the buttery rage in July.
4. Sweet jazz and blues music: Workshops, intimate performances and main stage jazz, R & B, sould, pop, rock and funk will make August 2014 edition of the PEI Jazz and Blues Festival a tough act to follow.
5. Acadian culture: PEI Acadians have their roots in France, but their hearts wide open during the rousing four day Evangeline Agricultural Exhibition and Acadian Festival in August
6. Magical musicals: The Charlottetown Festival (June 19 - September 27) will hit 50th anniversary high notes with "Anne of Green Gables - The Musical" and "Searching for Abegweit," a musical celebrating island culture.
7. Art on the town: Charlottetown's outdoor public art festival Art in the Open will inspire visitors August 23, along with Oh Canada, an exhibition of works from 62 contemporary Canadian artists never before seen in one location.
8. Go tip to tip: Walk, run or bike from one end of the island to another,( stopping for a bite and swim in a coastal town) as you explore the picturesque Confederation Trail.
9. Oyster Shucking (just pluck then grill, deep fry or saute): The PEI International Shellfish Festival in September is known as the biggest kitchen party in Atlantic Canada. Join Celebrity chefs, champion Oyster shuckers , fiddle players and your new best friends.
10. Sink your toes into white,(and red) sand beaches. From the famous singing sands of Basin Head Provincial Park , to the white sands of Brackley Beach, to the islands Red Sand Shores , embrace beach biliss and be kissed by the sea.
Need more? Check out the build up to major events on the PEI2014 Facebook page or stay up to date via @PEI2014.
For more information on Canada go to keepexploring.ca
By Lori McNulty