How to gain more hours on the slopes this winter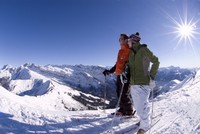 Ski Weeks is well known for their range of great value holidays to the Alps by coach but how about testing it out? The reliability of this form of transport is what makes this the way to travel to the Alps. UK airports are always trying to reduce their statistics of delays and cancellations, whilst last season there was not one coach cancellation with Ski Weekends. It's a great value option to afford a ski holiday this season or even to take a sneaky second one.
Ski Weeks pick up skiers in luxury coaches with plush leather seats from London Victoria or Kent to whisk them through the French countryside direct to the mountains. This provides the ultimate relaxing journey to the Alps without the hassle of an airport check-in or customs shenanigans.
The Advantages of Coach Travel

1. Avoid horrendously early airport check-in times, endless holiday queues at security and the perils of lost luggage by travelling safely in the knowledge your bags are stowed with you at all times.

2. You can even put your own favourite skis or snowboard on the coach, too, for just £15 return, guaranteeing they'll be with you when you arrive.

3. And when you do arrive, forget all about lengthy transfers. Ski Weekends' resort service is so finely tuned, the time between stepping off your coach and looking excitedly down your first ski run could be as little as 60 minutes – less than the average airport transfer time.

4. All this and you can travel conscience-free, happy and proud in the knowledge that coach travel is so much greener, producing just 10% of the carbon emissions associated with flying.

5. If the super value and eco-friendly simplicity of travelling by coach isn't enough, Ski Weekends coaches are also luxury on the move. The newest fleet of any operator to the Alps, every coach offers standard and club class seating, adjustable back rests, lap seat belts, individual reading lights and air conditioning, a hot and cold drinks facility, a washroom – as well as a colour TV and choice of DVD films en route.

6. Surprisingly speedy and super-comfortable, the distance to the Alps is covered through the night to ensure you wake up to a beautiful panorama of snowcovered peaks . . . and, of course, get to maximise your ski time.

7. It is up to £200 cheaper to travel by luxury coach.

8. The benefits of coach over flight are obviously simply through the figures but why travel by coach than driving independently? No decisions, no bag handling, no hunting around for somewhere to eat. No speed cameras or looking for somewhere to park. Best of all no driving or filling up the car, a way to avoid 3 tank fills of fuel and the tolls.

9. Not only is the luggage department of a coach vastly more spacious than a car the seats too are similarly larger. And with all the partying these two resorts offer the coach represents the safe way to travel home after a week living it up alpine style.
Staying at the Club Hotel Verseau in Brides les Bains starts from just £269 per person based on two sharing. The price includes coach transport from London Victoria or stops in Kent with half board accommodation including breakfast and a three course dinner.

For more information on low cost coach holidays with Ski Weeks, visit skiweeks.com.
Less Hassle on the Travel Front

For those who still love the joy of flying and enjoy an airport experience, why throng with the masses on a Saturday to Saturday or Sunday to Sunday to Sunday ski trip? Ski Weeks has seen a 10% increase in skiers looking to travel Monday to Monday or Thursday to Thursday – but why now?
1. Quieter airports as not so many skiers travelling to the Alps making the time at the airport more enjoyable.
2. Faster transfers as the roads are quieter and less busy.
3. Empty weekend slopes whilst everyone else is on transfer mode giving more slope time.
4. Ski up to seven and a half days which is more than the normal six days on offer.
Seven nights at the Club Chalet Gourmets in Morzine with seven and a half days skiing starts from just £631 per person based on two sharing. The price in Morzine includes return flights from London Gatwick and return resort transfers. The holiday is based on chalet board basis including breakfast, afternoon tea and three course dinner with wine.