Rapid growth in Yoga & Mindfulness Meditation holidays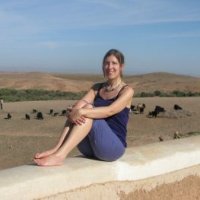 Healthy holiday company Satvada Retreats, has had a record breaking start to 2014 with unprecedented demand for its Yoga, Mindfulness Meditation and Walking holidays to Morocco, France and the UK.

Comments Lucia Cockcroft, co-founder of Satvada Retreats and a yoga teacher herself: "It has been widely recognised for some years now that many people prefer to be active on holiday rather than lounge on a sunbed by a pool.
"But there now seems a genuine growth in demand for yoga and mindfulness meditation as well, as people seek to completely relax and find some 'head space' away from the pressures of modern day life.
"Our New Year five night break to Morocco quickly sold out and our new holiday that combines walking and yoga in the Atlas Mountains in March is selling so rapidly that we are adding extra dates later in the year."
Walking and yoga are natural partners and the new holiday is based at a newly built Kasbah Hotel, built in the style of a Berber castle, located in the Atlas Mountains of Morocco just 40 minutes' drive from Marrakech.
The hotel was constructed with stone from a local river bed and local artisans made everything from the splendid Arabic-style mirrors in the bedrooms to the tables and chairs in the restaurant and even the tiles on the roof.
Planting of trees and shrubs within the grounds began as the hotel was built, resulting in one of the most beautiful gardens in the entire country by the time the hotel opened. There is also a large outdoor swimming pool with the backdrop of the Atlas Mountains.
On each morning of the holiday, a dynamic hatha flow yoga class will take place to stretch and enliven the body in preparation for the daily walk.
There will also be an evening yoga and meditation session, which will be a gentle, reflective combination of yoga and mindfulness meditation: the perfect wind-down after the day's activities.
The holidays start on 15 March and 2 November 2014 and costs from £799 pp (two sharing) which includes airport transfers, two-daily 75-minute yoga classes, daily guided walk and five nights' full-board (except one evening meal). Flights are not included.
For more information, visit satvada-retreats.co.uk.
Satvada Retreats runs nurturing, small-group yoga and mindfulness meditation escapes for anyone seeking to rejuvenate body and soul in beautiful surroundings. With a spotlight on Morocco, Satvada aims to offer accessible, thorough, yoga and meditation teaching, delivered with depth and sensitivity. Venues are hand-picked for their tranquillity, ambience and exceptional food. Satvada Retreats also offers breaks to south-west France and weekend retreats in Suffolk (see website for details).