The Seychelles' Desroches Island one of Trip Advisors' top hotels in Africa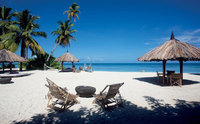 Desroches, a remote luxurious Seychelles island, has been named one of the top hotels in Africa by Trip Advisor Travellers' Choice awards 2014. The island, already one of Forbes Top 10 remote destinations in the world and considered to be one of the most pristine and untouched islands in existence, was named 25th best hotel in Africa based on the reviews and ratings of millions of Trip Advisor travellers from around the globe.
Examples of comments about Desroches Island left by travellers include, "Just totally fabulous and paradise!!!", "Excellent location, excellent service and a royal retreat" and "Fantastic Holiday".
Blessed with one of the world's healthiest climates, and miles of unblemished beaches, Desroches Island is a refuge for romance, adventure and pampered relaxation. The naturally inspired and tastefully modern Luxury Beach Suites and Beach Villas on Desroches Island provide the epitome in luxury and opulent indulgence.
"This is an important accolade because it is decided by the guests we have welcomed. We believe we have created a paradise on Desroches Island; combining attentive service, sumptuous cuisine and the utmost in luxurious relaxation and comfort in our villas and retreats, with the beautiful untouched beaches, crystal clear waters and breath-taking wildlife that are provided naturally by the island. We do consider it to be one of the best hotels in Africa, and indeed the world, so for our customers to confirm this is truly rewarding and we thank them for their feedback." Comments Patrick Shorten, General Manager for Desroches Island.
Desroches Island truly encompasses luxury, tranquillity and serves as a retreat for captains of industry, world leaders and renowned celebrities. The island is known for its understated luxury and the enviable service and facilities that all guests staying on the island receive as standard.