Be treated like a pro with VIP Ski & Hammer Sports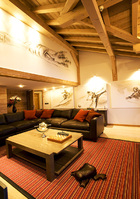 VIP SKI and Hammer Sports have again teamed up to offer a great package for avid cyclists to take on the Morzine Sportive. VIP SKI's experience in chalet accommodation combines with Hammer Sports' cycling experts to provide a week to remember tackling the French Alps. Hammer Sports knowledge of the routes and support for cyclists will leave those riding feeling as if they are on a pro team during the week.
Morzine has a rich cycling heritage with the Tour de France visiting on a number of occasions. The 2003 and 2010 routes are the most recent to have included Morzine as the location for a stage finale. With a maximum gradient of 11% and an average of 6.5% the Col de Joux Plane attracts pro cycling training camps and races. The Col de Joux Verte up to Avoriaz is equally as terrifying and a 33 minute record from the great Bernard Hinault from the 1979 Tour de France shows this is no short, easy ride.
The Morzine Sportive:

Two routes are available to cyclists as part of this event that takes place on the 22nd June 2014. The 160km Morzine Haut Chablais Master is a punishing ride taking in the iconic 1,760m Col de Joux Verte and 1,712m Col de Joux Plane as well as three further Cols, 3,800m of ascent. The 110km Morzine Chablais Senior also takes on the Col de Joux Plane and a further Col but does not include the Col de Joux Verte, 2,520 of ascent. The Sportive costs 38€ to register for and more information can be found at sportcommunication.com.
To make the most of Morzine's cycling credentials and the Sportive experts from Hammer Sports are on hand. Andrew Thompson from Hammer Sports is one such expert and has been racing since 1983 when he was just 13. At 16 he broke a world record as the youngest competitor on a 1,000km event as well as representing Great Britain at the UCI Masters World Championships. With the expert guidance of Andrew and the team, cyclists will be well prepared to take on the rides with confidence in themselves and their equipment. Upon arrival cyclists are given a free bike fit that nearly always results in a change of ride position for cyclists, much to their surprise. A range of guided rides are then available through the week led by Andrew either side of the main event, the Morzine Sportive. These include rides to Flaine, Chatel and La Praz as well as a recovery day after the Sportive with an easy ride to nearby Lac Leman. If at any time the bike fails the rider the team from Hammer Sports are on hand with spares and the technical know-how to quickly rectify the problem, a welcome boost for confidence.
Accommodation at the VIP SKI Alaska Lodge is the perfect post ride tonic. A wet suite with hot tub and sauna are at the heart of this along with VIP SKI's high standard of food, tailored to cyclists needs. Prices for the Morzine cycling week start from £490 per person based on two sharing a room for 7 nights. A 3 night package is available from £310 per person based on two sharing. Prices include half board accommodation and guiding. The dates of the cycling week are Friday 20th June to Friday 27th June 2014 with the 3 night package running from the 20th to the 23rd June 2014.
For more information visit vip-chalets.com/summer-alps-cycling.