Explore Tasmania under pedal power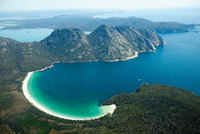 Few islands in the world can match Tasmania when it comes to travelling on two wheels. A recent surge in popularity for holidaying by bike has encouraged the state's only dedicated cycling operator to launch a new range of guided and self-guided tours from just £450 per person, which are now available to book from the UK through speciaist Tasmanian Odyssey. With tours ranging from four nights to a fortnight, a holiday by bicycle is perfect as a standalone holiday for cycling enthusiasts or an 'add on' either to a self-drive tour of Tasmania or to a mainland Australia holiday.
Every aspect of a cycling holiday in Tasmania can be booked and planned in advance, from helmet and bike hire to door-to-door itineraries, accommodation from simple hostels to authentic family - run B&Bs and luxury lodges, and even baggage transfer.
Australia's only island state, just 45 minute flying time from mainland Australia, has an astonishing variety of landscapes and an abundance of readily-seen wildlife. The diversity of terrain caters for all manner of cycling experience from a leisurely touring holiday for a couple of days for any age to a highly challenging two week wilderness experience, with plenty of off-road mountain biking for those who like a serious thrill.
Arguably there is nowhere else in the world that has the diversity of landscape within a landmass the size of Ireland with a ninth of the population. The mild, sunny east coast has wide open, well maintained roads with minimal traffic. Although described as 'flat' by the locals, that is only in comparison to the mountainous Central Highlands and the majestic Western Wilderness. In fact it gently undulates with long stretches that are a joy to cycle along, edged by olive groves, vineyards, and endless white sandy beaches lapped by turquoise waters, perfect for a refreshing dip and picnic watched over by the native marsupial and bird life. A backdrop of mountains stretches as far into the distance as the eye can see, before giving way to impenetrable temperate rainforest.
By contrast, the West Coast and World Heritage Area is a wholly different matter and fit, experienced cyclists who relish a challenge will be in their element. Ranked as one of the world's top cycling destinations, Tasmania's western wilderness is rugged, mountainous, lonesome and remote - and subject to dramatic weather that can change in five minutes from brilliant warm sunshine to wild and wet and back again, as summed up by the well-known Tasmanian saying, "If you don't like the weather come back in five minutes."
Accommodation ranges from inexpensive, friendly hostels to beach cabins and clean family run bed and breakfasts, luxury lodges and top of the range hotels.
Guests can choose from self-guided or guided tours of either the east coast or the west coast - or combine both for an epic adventure. Guests can choose from luggage -carrying hybrid bikes or fast trainers, both with puncture proof tyres fitted. The bicycles are delivered to the guests' hotel before their arrival.
Self-guided tours follow itineraries that can be matched to the guest's interests and fitness. A detailed route description is supplied with each tour. Airport transfers are available, and luggage can be transported from accommodation to accommodation.
The most popular tour is the Eight Day East Coast Tour, starting from the bohemian state capital of Hobart and ending almost 190 miles later in the fishing town St Helens in Tasmania's north east, gateway to the iconic Bay of Fires. It follows a route through the convict town of Richmond to the coast, and allows a cycle-free day to explore the Freycinet Peninsula and much photographed Wineglass Bay. Fit riders can extend the tour to Launceston for a slightly more challenging few days.
Fully supported group tours, with support vehicle and custom-build trailer, are also available, including an 11 Day East Coast and a Nine Day West Coast tour.
Couples on a self-drive of Tasmania wanting to hop on a bike and see Tasmania's east coast from the perspective of two wheels can also take advantage of a new Four Day East Coast fully supported guided tour that runs on demand, with minimum numbers of just two guests required.
Cycling holidays in Tasmania start from approximately £450 per person including basic twin share accommodation, or from £650 per person for boutique B&B accommodation. The rate includes bike and helmet hire, a personalised door to door itinerary, map and destination information, and a night's accommodation pre and post tour in Hobart or Launceston. Luggage transfer costs approximately £250 per booking. Flights from the UK/mainland are additional. (Rates subject to exchange rate fluctuation).
All the cycling holidays are available to book through the UK's only Tasmanian specialist travel company, Tasmanian Odyssey. For more information on visiting Tasmania, visit tasmaninaodyssey.com.