100,000th Peugeot 2008 rolls off the production line already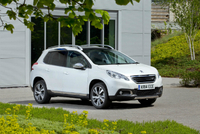 There's no arguing with the success of the Peugeot 2008. Less than a year after its launch, the urban crossover has passed the magic 100,000 barrier in production.
The car in question was taken direct from the plant in Mulhouse, France, where it's built, and handed over to its delighted new owner. The ceremony was witnessed by Corinne Spilios, Director of the Mulhouse production centre, and Xavier Duchemin, Director of Peugeot France.
Another measure of the Peugeot 2008's success is the awards it has won. Prestigious honours have come from numerous markets, including Ireland, Italy, Spain, France, Poland and Turkey. Evidence of the Brand's move up-market in the B-segment is illustrated by the fact that 68% of sales are for the two highest trim levels, Allure and Feline.
Built exclusively at the Mulhouse site for all countries except China and those in Latin America, the impressive level of customer demand has already led to three increases in production. Output currently stands at 680 vehicles per day, double the rate at launch.
In the UK, more than 5,000 examples of the 2008 have been sold, with an astonishing level of conquest sales – currently 70%. Dealers have been asked to sell another 18,000 during 2014 and 1,194 registrations in January means that ambition is achievable.
2008 is the only vehicle in its category to offer Grip Control technology, a system that improves traction, and received the maximum five stars in the independent Euro NCAP safety tests. Priced from only £12,995 and also available via Peugeot's innovative and unique Just Add Fuel™ personal lease scheme, the 2008 Urban Crossover is like no other.
For more information on all of Peugeot's spring offers and Just Add Fuel, visit peugeot.co.uk.