Dodge Nitro to go on sale in the UK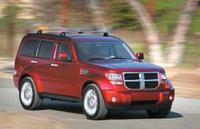 At the California International Auto Show today, the Chrysler Group confirmed production of the Dodge Nitro mid-size SUV for the 2007 model year.
The Dodge Nitro is the brand's first mid-size SUV and will be based on the Dodge Nitro concept that was unveiled at the 2005 Chicago Autoshow.
Simon Elliott, Managing Director for Chrysler Group UK said: "The Nitro is a five-seater SUV that is designed to attract customers seeking a vehicle with distinctive styling, sporty performance and a very flexible interior.
"This is now the second Dodge concept car confirmed for sale in the UK. The Dodge brand will launch with the Dodge Caliber in July next year and you can expect to see the Dodge Nitro on UK roads during 2007. Both of these striking vehicles will come with diesel engines and embody the bold, powerful and capable characteristics of the Dodge brand."
Dodge Nitro Concept
With a uniquely bold, powerful design statement that will ignite the mid-size SUV segment, the Dodge Nitro's crisp lines and substantial body size create a brawny character not found in any other mid-size SUV. The Dodge Nitro's spacious interior is both functional and flexible for people and cargo. Chrome, silver and red accents have a dynamic presence throughout the interior. The concept car featured
20 inch cast aluminium wheels, a rear hatchback and sliding cargo floor.
Dodge Caliber Concept
A new slant on one of the world's most competitive segments, the Dodge Caliber concept's powerful design shatters the conventional definition of what a global compact car should be. As a five-door vehicle that features a rear hatch, the Dodge Caliber concept combines a sporty, coupe-like profile with the strength, stance and functionality of an SUV.
Dodge Caliber's powertrain will offer many firsts – it will be the first Chrysler Group vehicle to offer the full range of World Engines and a Continuously Variable Transmission (CVT), which contributes to a 6-8 percent improvement in fuel economy compared with a traditional four-speed automatic transmission. A 2.0-litre turbo diesel engine will also be available in the UK.