Samcosport Dodge Ram Hemi coolant kit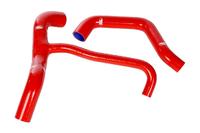 Those Welsh silicone wizards at Samcosport have spread their magic across the Atlantic to create this superb race-quality coolant hose kit for the perennial Dodge Ram Hemi.
The venerable pick-up is already a great hit on both sides of the pond and Samcosport's two-piece kit is hand fabricated to be even tougher than the truck itself, being able to handle temperatures and pressures way in excess of original factory parameters.
Available in no less than 15 different colours, including camouflaged and matt-black 'Classic' finishes, owners can even order a custom 'flamed' finish if they want to truly embrace their Hot-Rod roots.
The 2003 kits are just £99.01 + VAT with the 2004 models costing less at £76.65. + VAT. For the ultimate finishing touch, enthusiasts can also specify a tailored stainless hose clip set from £8.10 + VAT.
For more information please visit samcosport.com.