Dodge Avenger brings attitude to the UK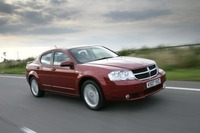 The Dodge brand is running on all cylinders in the UK with the introduction of the Dodge Avenger – an all-new four-door family saloon that combines bold, aggressive Dodge styling with power and performance, fuel efficiency, innovative interior features and high levels of safety and reliability.
The Dodge Avenger will launch in the UK in right-hand drive in September 2007, with a choice of diesel and two petrol engines. It is the Dodge brand's first saloon for European markets and is the fourth Dodge vehicle to launch in the UK.
Peter Lambert, Managing Director of Chrysler Group UK, said: "With the Dodge SRT-10 supercar, Caliber, Nitro and Avenger, Dodge now offers a broad and competitive line-up.
"With its powerful array of engines and the best entry-level price among its key competitors there is much more to the Avenger story than just its striking looks. Dodge drivers will enjoy being able to stand out from the crowd but Avenger is not just style over substance – with a pretty comprehensive list of standard equipment and prices around 10 per cent less than the competition, the Avenger is sure to bring even more buyers into Dodge showrooms in the UK this summer."
The Dodge Avenger will be available in the UK in two models – Avenger SE and Avenger SXT – priced as follows:
Avenger 2.0-litre petrol SE £14,995
Avenger 2.0-litre diesel SE £15,995
Avenger 2.0-litre petrol SXT £16,995
Avenger 2.0-litre diesel SXT £17,995
Avenger 2.4-litre petrol SXT Auto £17,995