On-call's move is just the job for Rothera Dowson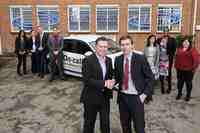 Nottingham legal firm Rothera Dowson has helped a growing recruitment firm take its first step on the commercial property ladder with the purchase of new offices in Sherwood Rise.

On-call recruitment Ltd, which specialises in temporary and permanent placements in sectors including warehousing and distribution, packaging and print, manufacturing, food industries and healthcare, has made the move from its previously rented premises in Forest Fields.

The conveyancing process at Vivian Avenue was carried out by Mike Sullivan from Rothera Dowson's commercial property team. He said: "Owning a property can be a real asset to a growing business.

"It is a big step for small businesses to take and it is a real investment in the future. The commercial property market is starting to show signs of strengthening as business owners begin to grow in confidence once again."

Adrian Rawden formed On-call recruitment in September 2005 – the same week he moved house and became a father to his first daughter, Mae. Since then, the company has grown from just two people to ten and Adrian has big ambitions to expand further to become Nottingham's first port of call for industry recruitment.

Adrian has been involved in recruitment for over 20 years. Before setting up On-call he worked as a senior manager at Staffline with responsibility for placing candidates in firms across Nottingham and Mansfield.

He said: "I'm really excited about the new premises. I've previously been rather a seasoned mover and never bought commercial property before. This feels like the right time for us to gain an established, quality base in order to attract the right talent and to position On-Call as professionals who mean business."

Since the completion in November 2013, Adrian has invested a further £50,000 to develop the 1,930 sq ft offices at 25 Vivian Avenue and the company finally moved in on 22 January. He searched for a suitable property for 18 months and was beginning to consider renting again when he spotted the new premises.

"Vivian Avenue is really convenient for the city centre, has plenty of parking and sits within a high-rental residential area, which boasts a diverse and vibrant community," he added. "Mike at Rothera Dowson was really helpful every step of the way. This was a big decision and investment for us but we felt really well looked after throughout the whole process."

For more information on Rothera Dowson solicitors visit rotheradowson.co.uk. For further details on On-call recruitment Ltd visit oncallrecruitment.co.uk.