Dodge Caliber's residual values ahead of Ford, VW and Vauxhall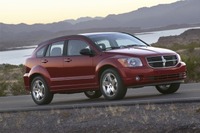 The Dodge Caliber has been cited by EurotaxGlass's, publisher of industry 'bible' Glass's Guide to Used Car Values, as having residual values above those of all obvious competitors. The vehicle's bold, distinctive design and value for money are mentioned by EurotaxGlass's as being key to the strength of its resale value.
The Dodge Caliber led the introduction of the new Dodge brand when it was launched in the UK in July 2006 and it continues to sell well with over 4,000 sold in the UK to date.
Chris Smith, Car Editor at EurotaxGlass's comments: "The Dodge Caliber is selling strongly as a used car. Residual values have been helped by the fact that supply of the car is limited. It is seen as value for money, and is something a bit distinctive in a compact family car segment where its rivals seem scared of standing out from the crowd.
"Most manufacturers have made valiant efforts to make a pan-European car appeal to every market at once. The Dodge Caliber goes the other way and the UK market appreciates that. Taking into consideration availability and time on sale, resale values are very good at present, certainly ahead of all obvious competition," he added.
According to EurotaxGlass's, the Dodge Caliber currently has the strongest residual value in its sector for a vehicle that costs much less and has better standard specification than its competitors – a one year old Dodge Caliber 2.0 SXT 5 dr Auto on a 56 plate retains 73.5 per cent of its value compared to the Ford Focus 1.6i LX 5dr Auto 56 plate which retains 55.3 per cent, the VW Golf 1.6i S Auto retains 69.2 per cent and the Vauxhall Astra 1.8 Club 5dr Auto retains 52.0 per cent.
Peter Lambert, Managing Director of Chrysler Group UK adds: "Coupled with the recent Euro NCAP 4 star safety rating it is no surprise that the Dodge Caliber continues to exceed our sales expectations.
Our research shows that drivers in the C-segment are bored with the bland vehicles available to them and want a car to be affordable and to stand out from the crowd. The Caliber offers this with eye-catching crossover styling, a roomy interior and a great choice of engines."
There are four models in the Dodge Caliber range – S, SE, SXT and SXT Sport – with a choice of two petrol and one diesel engine.
Prices start from just £12,495 for the petrol versions and £14,995 for the diesel versions and flexible finance options are available with affordable monthly payments.