Make your mark at Parsonage Croft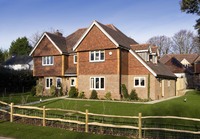 An exciting new opportunity to bespoke your home is coming to the village of Etchingham in East Sussex, courtesy of award-winning housebuilder Millwood Designer Homes.
It comes in conjunction with the new 105-pupil primary school which is currently being built to replace the existing school in the village. In addition, there will also be a 30-place pre-school, sports pitches, community facilities including a new community hall, parking facilities and a new village green and landscaped village square. The proposals have been developed in consultation with various key stakeholders, including the local Parish and East Sussex County Council.
Twenty one new homes will wrap around the school and community facilities, maintaining the ecological buffer that backs onto woodland and further farmland. Millwood's aim is to create a coherent housing layout reflecting the established development pattern of Etchingham while integrating fully with the proposed new school and community hall.
Known locally as the Lambing Field, the site is located to the north of the A265 on the western edge of Etchingham village. Parsonage Croft will provide a mix of housing types and sizes to cater for local needs, designed to create varied streetscapes in order to avoid the appearance of a typical modern housing estate.
Wood & Pilcher will be the selling agent for Parsonage Croft, and Partner Simon Ellis is urging potential buyers to contact him now, as he explains:
"We are delighted to be involved in this exciting new project which is going to be such a fantastic positive contribution to the village. We are also pleased to be able to offer a unique opportunity which is currently available on some of the larger homes.
"Subject to the stage of construction, you could internally bespoke your home so that it reflects your character, from the style of the kitchen to the colour of the bathroom tiles.
"All homes at Parsonage Croft will be built to Millwood's usual high standards and trademark quality of build, but if you are keen to make your own mark then now is the time to get in touch."
For further information, visit millwooddesignerhomes.co.uk.