Gentex auto-dimming rear-view mirror specified for Dodge Journey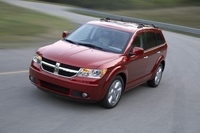 Gentex Corporation, the leading supplier of automatic-dimming rear-view mirrors to the worldwide automotive industry, has announced that it is shipping auto-dimming interior rear-view mirrors for the all-new 2009 Dodge Journey.
The Dodge Journey is a seven seat MPV that will replace the Chrysler Voyager. The Journey is an all-new "right-sized" crossover for the Dodge brand and joins the Caliber, Nitro and Avenger in the Dodge brand line-up in Europe. It is currently being sold in the United States and will be available in global markets outside North America in both left-hand and right-hand drive – including the UK and continental Europe - starting in mid-2008.
A Gentex interior auto-dimming mirror comes as standard on the SXT and R/T trim levels. Gentex mirrors darken automatically in response to the headlamp glare of rearward-approaching vehicles. In addition, a mirror with built-in microphones accompanies the UConnect® hands-free communication system and is available on both trim levels.
"Gentex is excited to be a partner with Dodge as it expands into this new popular vehicle segment," said Enoch Jen, senior vice president. "Inclusion of our glare elimination and microphone technologies in Dodge brand's expanding market is a win-win situation for both Gentex and Chrysler."