Brits looking for adventure, culture and value choose Romania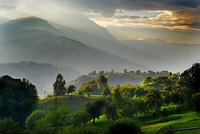 Holidaymakers seeking adventure, exploration and culture are looking at Eastern European countries like Romania to fulfill their needs, according to travel experts at HomeAway.co.uk.
In January this year, the website saw a staggering 300% increase in searches for Romania, with no other destination witnessing such a growth from travellers exploring their options for a new holiday destination.
For those looking for the self-made holiday experience, Europe remains top choice with interest growing substantially for countries east of the border such as Romania and Hungary. Adventure, exploring local food, culture and history is more important than ever before, it seems.
Karen Mullins, Marketing Director for HomeAway.co.uk said: "It's interesting to see that lifting the UK border restrictions earlier in the year has already had a positive effect on the Romanian tourism industry – people are curious to discover a new and interesting country and find out about its unique culture for themselves."
Increases in web traffic to the site indicate that these holidaymakers are rejecting traditional beach holidays in favour of exploring a country they may not have visited before to experience a different life and culture. Romania offers not only an excellent value holiday, but a wealth of culture and history from Transylvania, the home of Dracula, to its capital Bucharest.
As well as Romania, interest in holidays to neighbouring Hungary has also grown substantially, with a 100 per cent search growth on the site for this country too. After suffering two recession periods in recent years, the Hungarian tourism industry is expected to receive a welcome boost with visitors expected to reach 12 million by 2017. As Europe's leading dental tourism destination, the country is known for more than good teeth – being steeped in history and UNESCO World Heritage sites.
A typical Romanian property on HomeAway.co.uk costs £397 in low season and £508 in high season for a 3-bedroom property for a week.
HomeAway.co.uk has just over 1400 holiday homes listed in Hungary, a 3 bedroom property for a week costs £439 in low season and £543 in high season.
For more information, visit homeaway.co.uk.