Dodge brings volleyball to an 'urban beach' near you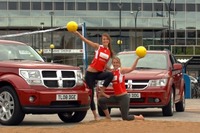 Dodge will be helping the international stars of the Olympic sport of Beach Volleyball battle it out on the sand this summer by building 'urban beaches' across the UK.
Throughout July and August, the Dodge Urban Beach Volleyball Tour will travel to Milton Keynes, Glasgow, Portsmouth, Birmingham and Cardiff using the new Dodge Journey people carrier and Dodge Nitro 4x4 to showcase the best of what Beach Volleyball has to offer.
Over 200 tonnes of sand will be brought to each location to create a beach court, surrounded by an arena for spectators.
Players confirmed for this year's tour include for the first time, guest Australian pairs Sam Boehm and Christopher McHugh and the high flying Aussie girls Becchara Palmer and Alice Rohkamper, while Englishmen Jody Gooding and Morph Bowes return to defend their 2008 title.
But it is not just world-class beach volleyball players who will be in action over the three-day festivals. In the fun Beach4 tournaments, local teams can battle it out on the sand for the title of 'Beach4 City Champions'.
There are also fantastic opportunities for young volleyball stars of the future to get involved and get a taste of what this sport has to offer. The 'Beach Kids' programme is available for local children under the age of 16. At each event they will be given the opportunity to get free expert tuition from some of the UK's top coaches to develop their Beach Volleyball skills.
Tim Cantle-Jones, Event Director of the Dodge Urban Beach Volleyball Tour, said: "Our Tour has proven to be hugely successful in the past and with the sport hotting up for the Beijing 2008 Olympic Games, we're sure this year's is going to be even bigger and better!
"This is a chance for people of all ages and abilities to get involved, whether you're completely new to volleyball or already a member of a team. It's great fun and also a unique opportunity to see the professionals in action."
The tour is calling at Milton Keynes 11-13 July in Station Square, Glasgow 19-20 July at its River Festival, Portsmouth 8-10 August in Gunwharf Quay, Birmingham 14-17 August in Centenary Square and Cardiff Bay 23-25 August.
All the events will build-up to the FIVB World Under-21 Championships taking place in Brighton on September 3rd.
For more information about this year's fixtures and events, visit urbanbeachtour.co.uk