Dodge Journey offers impressive residual value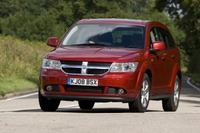 The new seven-seat Dodge Journey offers value for money in more ways than one. As well as undercutting rivals on price, and offering bags of family-friendly kit as standard, experts from EurotaxGlass's predict that the Journey will be worth an impressive 41 per cent of its purchase price in three years time.
EurotaxGlass's – publisher of Glass's Guide – has predicted strong residual values for the new Dodge Journey compared to its competitors. The company's Market Intelligence Unit (EGMIU) predicts that the Dodge Journey 2.0CRD SXT is likely to retain 41 per cent of its original price over a three-year and 60,000 mile period.
Jason King, Head of Market Intelligence at EurotaxGlass's, comments: "As the marque's first MPV offering within the UK, the Journey is a unique addition to the current Dodge line-up and elevates the brand to a more mainstream positioning within the automotive market.
"Dodge's bold and signature SUV-styling – combined with the high levels of specification and functionality expected of an MPV – give added presence. Yet the vehicle is still easily identifiable as an MPV, combining both style and practicality."
King adds: "Competitive list prices indicate that the Journey will be a serious rival for its key competitors."
The front-wheel drive Dodge Journey has 5+2 seating as standard across the range and features including a tilt and slide flexible seating system; spacious under-floor storage bins and under-seat storage areas; rear doors that open to 90-degrees for easy access when installing child seats; a rear conversation mirror and climate control that operates in all three rows.
The new Dodge comes with a choice of a 2.4-litre petrol engine or a 2.0-litre diesel engine. The diesel engine is available with either a manual or dual-clutch automatic gearbox and will return up to 43.5 mpg (combined cycle).