Subaru and Daihatsu to increase security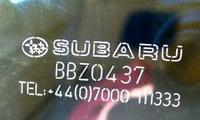 Retainagroup, the country's leading supplier of vehicle glass and component security etching, marking and registration systems has been chosen by International Motors Limited to mark and register all Subaru and Daihatsu vehicles as original equipment.
Starting this month, the Retainagroup system will be used to mark at least six windows on each vehicle with the brand logo, a unique code and the 24/7 contact telephone number of its International Security Register (ISR). In addition, a number of parts and components on both Subaru and Daihatsu vehicles will be security marked at International Motors' import centre at Sheerness in Kent. Last year, 11,323 Subarus and Daihatsus were registered in the UK, according to the SMMT.
The Japanese makes, including the iconic Subaru Impreza and increasingly popular small Daihatsus such as the Sirion and Terios, join 12 other manufacturers who provide the Retainagroup system as standard. Marking and registration is a proven theft deterrent and the unique code is a powerful tool in detecting the growing problem of vehicle cloning. An overtly marked and registered car is 55 per cent less likely to be stolen as it makes a vehicle much harder and riskier to sell.
The covert marking and registration of parts and components also makes selling parts from a broken up car extremely risky. A single call to the ISR by a dealer, the police or a member of the public can quickly and easily determine whether there is a problem or whether the seller is the rightful owner.
"Retainagroup marking and registration provides Subaru and Daihatsu owners with an extra, proven layer of security," explained International Motors' spokesman, Arthur Fairley. "Vehicle crime has changed in recent years with criminals obtaining keys in order to steal cars, and a surge in cloning. Retainagroup marking and ISR registration is a simple and effective measure that we can provide at no extra cost to owners."
He continued: "Retainagroup is the leader in this specialist sector of vehicle security and the company has an excellent record in helping to detect and deter crime. We look forward to working with them in the fight against criminals."
Wendy Rowe, Retainagroup managing director, said: "Subaru and Daihatsu appreciate that vehicle crime hasn't gone away; it has simply changed in ways that alarms and immobilizers alone can't necessarily combat. We're delighted to be marking and registering two more vehicle brands and look forward to being able to help Subaru and Daihatsu owners."
The Subaru and Daihatsu move is very much in line with the views of the Association of Chief Police Officers' Vehicle Crime Intelligence Unit (AVCIS) which is keen to see greater use of overt marking (readable without specialist or workshop equipment). AVCIS believes that it benefits law enforcement and the detection of stolen vehicles at the roadside and that it aids identification when stolen vehicles are broken up or containerized. This is especially true when registration, engine and vehicle identification numbers (VIN) have been removed or changed.