Holiday spending helps South African conservation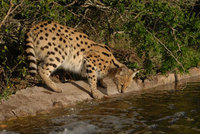 Dollars, euros and pounds spent by international safari tourists are aiding in efforts to conserve rare and endangered species in South Africa.
Many game reserves across South Africa run breeding and rehabilitation programmes for a wide range of species, from rhino and cheetah to rare antelope species and small game. Funded by donors, conservation organisations and eco-tourism income, they contribute significantly to enhancing biodiversity and saving threatened species.
For tourists, a visit to a breeding programme provides a tangible demonstration of how their holiday-of-a-lifetime has a positive impact on the environment, with many game reserves ploughing tourist dollars back into worthwhile conservation projects.
Visiting the small cat conservation project at Lalibela Game Reserve in South Africa's Eastern Cape province, Australian visitor Tracey Williams said the experience had added greatly to her group's safari holiday.
"We had expected to have great game-viewing experiences, and we have had those and more, but this was a real highlight – seeing that we are actually making a difference to conservation simply by being here in South Africa" she said.
While Africa's big cats, rhinos & elephants attract the bulk of tourist interest and conservation efforts, the less-visible small cats are just as important to biodiversity and as worthy of conservation, according to the Eastern Cape-based Cat Conservation Trust.
"Every animal has an important role to play in any ecosystem on our planet – it's not just about conserving the high-profile species like pandas, rhinos, whales and dolphins. The "ugly" or "dangerous" ones are important too," says Vernon Wait of Lalibela Game Reserve in the Eastern Cape province of South Africa.
"Lalibela's small cat conservation programme focuses on the protected serval species (Leptailurus serval) and once they are breeding successfully, the plan is to move on to breeding the African wild cat as well. Most visitors do not even know that servals exist" Lalibela head of conservation, Kelly Pote, said.
Although it might look a little like a very tall domestic cat, and the ancient Egyptians did keep them as pets and rat-catchers, at 40-65cm tall and weighing in at 7-13kg, the serval is no placid household kitty-cat!
The serval is one of the four small cats found in South Africa, along with the caracal (lynx), the Small Spotted Cat (Africa's smallest and most secretive cat – previously known as the Black Footed Cat), and the ancestor of the domestic cat, the African wild cat.
Found only in Africa, the serval is a protected species which has become regionally extinct in parts of South Africa. The IUCN (International Union for Conservation of Nature & Natural Resources) notes the major threat to the serval as degradation of its favoured wetland habitat, and the burning and over-grazing of grasslands by livestock, as well as hunting for its pelt in some areas.
Pote started the serval breeding programme in 2013 with the aim of reintroducing the species into the region, expanding the reserve's existing serval population and gene pool, and "adding value to the overall guest experiences at Lalibela".
This elegant cat's attraction for photographers is not hard to fathom. A nocturnal and twilight hunter with over-sized ears to pick up the sounds of small prey in the grass, delicate spots and stripes that are a unique "fingerprint" to each animal, and the longest legs in proportion to body size of any cat, the serval uses its legs as "mini-stilts", leaping up to 2m to pounce on rodents or swat birds to the ground.
The 7 500 hectare Lalibela has a number of free-roaming servals that are seen on game drives and Pote hopes that the breeding programme will increase not only the reserve's population of servals but that of neighbouring reserves too.
"We set the programme up not only to enhance game viewing and species variety at Lalibela but also in the interests of conservation and biodiversity in the wider region, where the serval has become locally extinct. The idea is to release into the wild at Lalibela as well as at nearby private game reserves. Spreading the serval gene pool is crucial for a successful conservation programme" she said.
Lalibela's serval breeding programme has already produced two kittens from one of its two breeding pairs, and the conservation team strongly suspect an imminent litter from another pair.
The servals are kept in breeding enclosures, with the offspring reared in "as wild a manner as possible" before being released into the reserve once weaned, to reach maturity and start breeding in their natural environment, said Pote.
Each enclosure has a feeding point where live prey are released for the serval to hunt and kill naturally. The enclosures are also home to other natural food sources such as small reptiles and rodents, while a bird feeder attracts birds for hunting, and a small dam is stocked with small fish that serval are known to prey on.
While tourists are happy to see their holiday budgets contributing to conservation, others want a more hands-on experience of making a difference, and game reserves and breeding centres are only too happy to offer "volun-tourists" the opportunity to get their hands dirty.
At Lalibela, a group of American students did just that in 2013 on Lalibela's first volun-tourism project, helping to build the serval breeding enclosure as well as assisting in rhino monitoring and anti-poaching patrols, and getting stuck into erosion control measures.
"Our school encourages community service and this was just incredible, to see the hard work going into conservation in this completely wild, natural eco-system. We saw it all unfold before our eyes, we worked on it ourselves, and it was a life-changing experience," said 19-year-old student volunteer Bryan McAvoy.
More about Lalibela Game Reserve:
Lalibela is a Big 5 game reserve on the Eastern Cape coast of South Africa, 90km east of Port Elizabeth, the nearest airport. In addition to the Big 5 (lion, rhino, elephant, leopard & buffalo), the 7 500 ha (about 18 500 acres) reserve is home to other predators such as cheetah, hyena, jackal and lynx, as well as numerous plains animals including giraffe, zebra, warthog, impala, wildebeest, blesbok and various other antelope species. Overlooking indigenous bush and watering holes, accommodation is in a luxury tented camp and cosy safari lodges. The reserve is known for its relaxed informality and warm hospitality, with buffet meals enjoyed at communal tables or under the stars in an outside dining boma.
For more information, visit lalibela.net.