The MT-07 is ready for new riders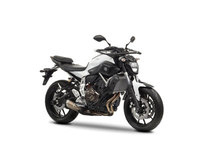 The new MT-07 has already impressed the world's press with its blend of light weight, compact dimensions and responsive, 689cc twin cylinder engine. The MT-07 offers a unique blend of performance and handling that will satisfy even the most experienced riders and with a recommended price of £5199 it redefines the word 'value' in this competitive middleweight class.

The chassis specifications, narrow seat and low dry weight of only 164kg, also make the MT-07 very attractive to new A2 licence holders and motorcycle training centers as a machines that offers the perfect introduction to the world of motorcycling.

Free 35KW Restrictor Kit for new MT-07s
Yamaha are therefore pleased to confirm the availability of an A2 35KW Restrictor Kit for the new MT-07 and MT-07 ABS models which complies with the 3rd Directive for Category A2 motorcycles.

The 35KW Restrictor Kit can be provided and fitted free of charge as part of the normal PDI on all new MT-07's, at the time of purchase by the supplying Yamaha dealer. The new owner receives a 35KW Certificate to confirm that the kit has been fitted and the new machine complies with the current A2 licence legislation.

And of course the beauty of having a restrictor kit available is that once a rider has qualified for a full licence they can get their MT-07 derestricted and then experience the full potential of the MT engine. The M-07/ABS should therefore be able to satisfy the changing needs of new riders as they gain experience, without the need to sell and replace their machine for many years.

The MT-07/ABS restrictor kit can also be ordered as a spare part from Yamaha dealers, so that secondhand machines can be restricted if purchased by an A2 licence holder. The kit has a recommended retail price of £124.99 ex VAT.

MT-07 RSK – Riding School Kit
Recognising that the restricted A2 version of the MT-07 also looks set to become a favourite with motorcycle training centres Yamaha has also developed a special RSK – Riding School Kit – package that turns the new MT into the perfect training machine.

The kit includes a handlebar/levers protective cage and six heavy duty sliders to protect the frame and engine. These parts have been developed by Yamaha engineers having consulted schools across Europe and the parts are positioned in such a way as to protect all the vital components if a bike is dropped during low speed manoeuvring.

There are many advantages of the official RSK kits:

1. The kit is made up of Yamaha Genuine Quality Parts
2. No modifications are required to the motorcycle
3. Quick and easy to fit to the motorcycle
4. Vital protection of the key engine and chassis components during a drop or fall over
5. The look and visual identity of the MT-07 is preserved.
6. Durable engineering and high quality materials are used
7. Kit and parts are available form Yamaha Europe central parts warehouse.
8. The four individual components of the kit can be ordered as spare parts

The RSK kit will be available from authorised Yamaha dealerships during April 2014. The expected recommended retail price for the complete kit is £312.00 ex VAT. Individual prices for each of the four separate items in the kit will be published at a later date.