Introducing Anti-Blemish Clinical Clearing Gel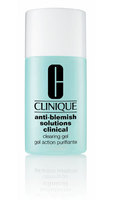 Fact: Blemishes are a universal skin care concern, across all ages, ethnicities and genders. Research shows that blemish sufferers try multiple remedies to address this concern including prescription treatments. However, many treatments can be too harsh for sensitive skins, or the side effects could even aggravate the problem.
Solution: As a pioneer in the dermatological concerns category, Clinique delivers a highly effective yet gentle approach for treating blemishes right at home. In a four week UK sensory study, 75% of women agreed that they saw fewer breakouts and visibly clearer looking skin.
There are a multitude of culprits that cause blemishes to surface. Environmental pollutants, bacteria, excess oil and improper cleansing can lead to clogged pores and cause breakouts. Blemishes are also linked to stress, hormonal changes and fatigue, which can make them very difficult to predict and control.
Breakouts can also be an emotional issue. Research shows that it can lead to self consciousness, embarrassment, lack of confidence and poor self esteem. In addition to trying a myriad of formulas to treat their breakouts, women also try to cover their blemishes with concealer or foundation which can look unnatural and clog pores, causing the problem to become exacerbated.
Anti-Blemish Solutions Clinical Clearing Gel implements a 4-in-1 Clearing Complex to help treat and prevent future breakouts, combining exfoliating and anti-blemish agents with sebum-controlling and anti-irritant agents. Also, the unique alcohol and water base provides quick absorption while witch hazel water helps minimise excess surface oil and tightens pores.
Here's how the 4-in-1 Clearing Complex works:
Anti-Blemish: Salicylic Acid clears away dead surface cells that clog pores to help resolve and prevent breakouts.
Control-oil: Laminaria Saccharina helps normalise the excess production of oil.
Non-irritating: Sea Whip Extract calms and soothes skin and helps reduce surface redness.
Exfoliate: Salicylic Acid promotes healthy cell turnover.
Anti-Blemish Solutions Clinical Clearing Gel can be applied all over the face or used as a spot treatment.
If used all over the face, apply a thin layer of Anti-Blemish Solutions Clinical Clearing Gel after cleansing. Do not use with other leave-on acne treatment products and be sure to apply an oil-free moisturiser over the gel such as Dramatically Different Moisturizing Gel to ensure skin stays hydrated and comfortable.
If used as a spot treatment, apply a thin layer of Anti-Blemish Solutions Clinical Clearing Gel to blemishes after Anti-Blemish Solutions 3-Step Skin Care System.
Clinique Anti-Blemish Solutions Clinical Clearing Gel is a fast-drying, oil-free formula that starts working immediately to help clear blemishes, is dermatologist tested, promotes healing, and helps prevent future breakouts.
Allergy Tested. 100% Fragrance Free.
Anti-Blemish Solutions Clinical Clearing Gel 15ml RRP £14.00/ €18.50
30ml RRP £20.00/ €26.00
Available in Boots from 28th February 2014 and nationwide from 21st March 2014.