Luxury boutique hotel shines spotlight on Dumfries & Galloway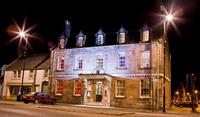 The re-launched Buccleuch & Queensberry Arms (BQA) Hotel in Thornhill is putting Dumfries & Galloway firmly on the map with a major drive to promote the region as a 'go-to' destination for tourists across the UK and the world.
Having spent two years restoring the 1851 former coaching inn, the Sweerts de Landas family are working closely with local suppliers, businesses and Visit Scotland to establish the BQA as a premiere travel location in a year which is set to see substantial tourism growth for Scotland as a result of major events including the Commonwealth Games and Ryder Cup.
Currently tourism in Dumfries & Galloway generates £141m for the local economy and employs more than 5,200 people, but still only accounts for less than 6 per cent of tourist trips to Scotland, making it one of the country's still largely undiscovered secluded secrets.
Visitors to the BQA not only receive the finest Scottish hospitality, but are also offered a whole menu of activities to fill their time exploring the local region. From tackling five of the challenging 'Seven Stanes' mountain biking trails described by former England rugby captain Lawrence Dallaglio as 'cycling heaven', to exploring environmental artist Andy Goldsworthy's 'Striding Arches' or testing out the River Nith's abundant fishing stocks – visitors are guaranteed an unforgettable trip.
The area is famous for the quality of its shooting grounds, with the Queensberry Estate offering more than 90,000 acres of spectacular game shooting and at the end of a long day on the hills the BQA's chef will cook up a feast of quarries.
The 600 year old Drumlanrig Castle is located just four miles from the hotel and is widely regarded as one of the finest examples of 17th Century Renaissance architecture in Scotland with exquisite décor and acres of ornamental gardens and grounds to explore.
Prince Charles himself is a keen advocate of the region, having recently purchased one of Britain's most beautiful stately homes, Dumfries House, which is now open to the public and provides a relaxing place to while away the afternoon just a short drive away from the BQA.
Hotel owner, Dolf Sweerts de Landas, said: "We first visited Dumfries & Galloway 15 years ago and were so overwhelmed by its beauty that we found it very difficult to leave! Our vision for the hotel was not only to bring new visitors to the area, but to provide a hub for the local community so it's very satisfying to see everyone enjoying the results of our hard work.

"There's a common misconception that a visit to Scotland must entail driving hundreds of miles up to Edinburgh or the highlands, but Dumfries & Galloway offers stunning scenery within two hours of much of Northern England including Leeds, Manchester, Newcastle, the Lake District and Yorkshire.
Dolf continued: "We're very grateful for all the support we've received from our neighbours both near and far and look forward to seeing what the next few months have in store."
Paula McDonald, Regional Director of Visit Scotland, said: "We welcome the re-opening of the Buccleuch and Queensberry Arms Hotel in Thornhill which is a fantastic asset to Dumfries & Galloway.
"Investing in tourism is an investment into Scotland's future and this quality accommodation is second to none in terms of service and style offering visitors an exceptional tourism experience. I'd like to wish them every success in their venture and I'm thrilled this additional offering to the region's tourism product portfolio comes in what is a highly significant year for tourism in Scotland with the Commonwealth Games, Ryder Cup and Homecoming Scotland events programme all shining the international spotlight on our great country."
The main hotel has 10 individually designed bedrooms and two stunning cottage bedrooms with disabled access. There are meeting and function rooms, making the hotel a perfect venue for weddings, executive meetings or any event for business or pleasure.