Lithuanian song festival celebrates its 90th anniversary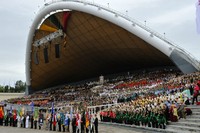 'Here is My Home' is Lithuania's main cultural event for 2014 and is to be seen as the Lithuanian Cultural Olympics. Originating from the end of the 19th century, the Lithuanian song festival is now a huge event held every four years. 2014 is the commemoration of the first Song Celebration in 1924, held in Kaunas where the song celebration was born. Bringing together thousands of professional and amateur musicians, singers and dancers, young and old, from all over the world. 2014 will welcome over 40,000 participants, 1,000 of which come from twelve foreign countries. The entire state with its different dialects, traditional songs, dances, crafts and cuisine from Lithuania's villages and towns fit closely together in several parks within Vilnius.
'Here is My Home' starts on 28 June in Kaunas for the commemoration of the 90th anniversary. The event starts on 2 July with a grand opening concert in Vilnius Cathedral Square. The programme is composed of five fundamental parts. The Folklore Day is dedicated to traditional culture and takes place on 4 July in Bernardine Gardens, Castles' Area. Ensemble Evening in Kalnu Park presents folklore springs in a colourful, theatrical and stylised form. The concept of the five-part programme will be revealed in Dance Day compositions arranged by professional choreographers with over eight thousand dancers of all generations from Lithuania and Lithuanian diaspora. The entirety of the celebration is complimented by the Folk Art Exhibition, an afternoon for the traditional national instrument Kankles, brass orchestras, performances, parades, amateur theatre shows, professional art events and the emotional and vibrant procession of the celebration's participants. The crown of the celebration The Song Day in Vingis Park unites 20,000 singers into a mighty choir singing the Lithuanian National anthem.
In 2003, the tradition of the Baltic Song and Dance celebrations of Lithuania, together with Estonia and Latvia was recognised by UNESCO and included on the representation list of the intangible cultural heritage of humanity.
For more information on 'Here is My Home' visit: dainusvente.lt/en/programme

For more information on Lithuania visit: lithuanian.travel/uk