Star1 Airlines introduces Vilnius to Edinburgh flights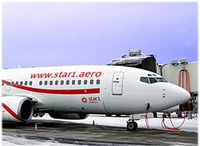 Lithuanian low-cost carrier, Star1 Airlines, has announced a new route from Edinburgh to Vilnius (Lithuania), commencing 28 of March.

"The Star1 Airlines decision to launch direct flights between Edinburgh and Vilnius will definitely help to attract more tourists from Scotland to Lithuania. We are happy to cooperate with them marketing Lithuania to the Scottish travel trade and travel writers" states Augusta Jaudegyte, the Director of Lithuanian National Tourism Office in the UK.

"Our constantly expanding market share and growing passenger flow enables Star1 Airlines to establish itself as the only Lithuanian low-cost airline and further develop new routes and services. We believe that low fares of flights combined with the high quality of service and individual attention to each client offers us a strong competitive position", Martynas Laivys, the head of the company said.

The airline does not charge for luggage – one suitcase not exceeding 20 kg will be carried free of charge. "This is particularly important to our customers who travel for business or leisure purposes. Free luggage and flight check-in are some of our advantages which bring down the costs for each traveller", says the head of Star1 Airlines.

Star1 Airlines will launch its regular flights between Edinburgh and Vilnius from 28 March on Thursdays and Sundays (as of May 7 - on Fridays and Sundays). Fares to Edinburgh including all fees start from just 99 litas (£25). For booking, visit star1.aero.

Star1 Airlines also operates direct flights from Vilnius to London (Stansted), Milan (Malpensa) and restores summer season flights to Dublin and Girona (Barcelona).