How to fly safe during Covid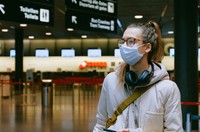 Now that the world is starting to open up a little bit more and travel restrictions are lifting, you might be planning a trip to see loved ones living abroad. Or perhaps you're travelling during this pandemic time because your job requires you to do so. Whatever your reason for travelling is, you're looking forward to boarding that plane, but you're also a little apprehensive.
Travelling hasn't been the same since COVID-19 hit the world by storm last year. Even with vaccines rolling out, travellers must take extra precautions to arrive at their destination safely. Before you head to the airport, there are a few travel essentials to consider — read what those are below.
What's the Risk of Getting COVID on a Plane?
Travelling involves a lot of sitting around with many other people in enclosed spaces. Think of how long it takes to walk through customs inside the airport or waiting for your flight at the departure gate — not to mention the length of the flight itself. You're in closer contact with many people, breathing the same air, and you'll be inclined to touch more surfaces that may or may not be sanitized. It's crucial to plan your trip as safe as possible.
Get a Test
Many countries already have a COVID-19 test policy in place for travelers. For example, you can't enter the United States or the UK without providing proof of at least one negative COVID test. Regardless of where you're heading, give yourself some peace of mind and get a PCR test for COVID 19 from a home healthcare provider.
A PCR (polymerase chain reaction) test is the fastest, most convenient and most reliable testing system. When you book your test with a trusted healthcare provider, they'll come to your home or workplace to administer the quick test and send it to a professional lab for testing. You'll know within a day or two whether or not you're able to get on board or if you should re-book the trip entirely. It might sound a little daunting now, but you'd rather be safe than sorry.
Wear Protective Gear
It's mandatory to wear a facial mask in most airports and airplanes. You may have seen those videos floating around the internet of people getting kicked off planes for refusing to abide by such rules — it's a very real thing, and you need to take notice. You will have to wear at least one facial covering from the moment you enter the airport until you reach your final destination, so invest in comfortable gear! Consider wearing a surgical style mask underneath a face shield to give yourself and others double the protection.
Only Go if It's Necessary
If you're showing any abnormal symptoms on the day of travel, don't take it lightly. Check in with your doctor to see what they say. And finally, ask yourself — is this trip worth it right now? Can it wait a few months? If there's a concern, consider delaying the trip. Otherwise, use these tips to help you get there safely and soundly.