Is airport parking safe? Here's everything you need to know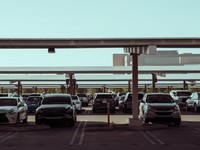 Any trip, whether brief or lengthy, needs a lot of planning. When the trip involves flying, you will notice that the amount of planning you will require doubles. There are many things to think about, such as hotel check-ins, rentals, house-sitters, layovers, rental cars, and much more.
Another critical question in your mind is what to do with your vehicle while you are away. Leaving your vehicle in a long-term airport parking lot is the best and the most preferred choice during such instances.
However, you might be wondering if leaving your car at the airport while traveling is safe.
The following tips will help you if you have any reservations about parking your vehicle in an airport parking lot. Although simple, the recommendations are an effective way to guarantee the safety of your car.
Pick a covered parking slot
They ensure that your vehicle is protected from weather elements, including heavy rain, scorching sunlight, or snowstorms when taking a long trip. Although they are more expensive, covered parking at RDU airport is worth it.
You may consider buying a quality car cover if you are unwilling to spend extra cash on a covered parking space. Car covers also boost the security of your car since no one can see inside your vehicle.
Remove your valuables from the car
Before leaving your car at the airport, you must remove any valuable items in it. Although the parking lots are secured, you do not want to risk losing anything important. In most theft cases, the thieves primarily target cars with visible white wires.
Therefore you should not leave items such as earphones, iPods, or any other wired device in your vehicle. Also, some people lose essential documents kept in their glove compartments. Do not forget to empty it as well.
Also, leaving car keys in your vehicle may allow thieves to steal your car or access your trunk. Avoid any form of temptation that may attract people with bad intentions, such as leaving money in your vehicle.
Check your tires
Make sure all your tires are inflated to the maximum pressure. Besides preventing flat tires, it ensures you will have a safe drive home when you return from your trip. When the car sits too long at the long-term airport parking lot, you will have flat tires with even the slowest leak.
Inflating your tires is important if you are planning to travel during the winter season since the car will be exposed to the cold for a long time which affects the air pressure in your tires.
Airport parking facilities are generally safe. However, they have security lapses sometimes. Some of the issues may include;
Loss of valuables
It is easy for thieves to break into your car, especially outdoor parking. The thief does not even need to break into your vehicle in some cases. This is because many people, if running late for a flight, forget to lock their cars.
Surveillance glitches
Not all airports have advanced surveillance measures in place. Apart from their cars, airport security often has much more on their hands to ensure the safety of travelers.
Generally, airports do not have enough means to protect every parked vehicle. Therefore authorities may not sufficiently monitor the parking.
Vandalism and stolen parts
There are more cases of airport parking vandalism than theft. They include broken windows, key scratches, and graffiti. Stealing car parts is lucrative since there is a ready black market for the items. The features targeted most include side-view mirrors, headlights, and taillights.
The safety of your car in airport parking should not worry you. The best solution to the security challenges is opting for a firm that provides off-site parking.
Besides making online reservations, you can choose the type of parking, compare prices, and pay online. You are guaranteed a stress-free trip.