Safe flying makes Christmas reunions possible, but things are different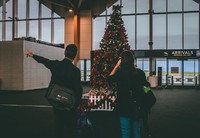 Christmas in 2020 was unlike any prior holiday season, with households staying under their own roof to stop COVID-19 from further spreading. However, the vaccine rollout has made flying safe in certain regions.
If medical experts have said air travel is safe where you live, then follow their advice and head to the skies! However, things may have changed since you last flew, so keep the following things in mind.
Driving Yourself to the Airport is Cheaper Now
It used to be that airport parking was prohibitively expensive, so it was cheaper to pay someone to drive you there. Now, you can find cheap parking at Nashville Airport and in dozens of other major North American cities by utilizing a new model that makes driving yourself cheaper.
Simply book a reservation online for a parking spot adjacent to the airport and show the booking to the attendant upon arrival. They'll show you where to board the free shuttle to your terminal. Leverage underused parking spots nearby to avoid waiting for someone else to pick you up and enjoy the familiarity of your own vehicle.
There May Be Lines
Commuters are used to seeing lines at the airport, but they may be a bit longer this season due to screening requirements. Be patient and friendly with staff, who are just trying to ensure everyone is safe and healthy!
Also, arrive a bit early and give yourself more time before your flight. With the right amount of prep, you won't be too stressed while travelling.
Pack Strategically
Savvy packers can skip lines and fees by cramming everything they'll need for the trip into their carry-on luggage. Be organized and strategical. Make sure that the entertainment and food you'll want while flying is within easy reach of your seat, such as below the seat in front of you.
Pack a larger carry-on bag in the overhead compartment at your seat or in front of it. If you use a compartment behind your seat, you'll have to wait for people behind you to deboard the plane before getting your bag.
Bringing all your belongings onto the plane with you instead of checking them lets you bypass the luggage carousel altogether, so you don't need to wait for your bags or worry the airline lost them and can simply begin your trip. You'll also skip fees too. Just make sure you don't need something during your trip that you can't carry onto the plane, such as a Swiss Army knife or some other prohibited item.
Either leave them at home or, if they're absolutely necessary, check them in.
Travel has changed a lot in the last number of months, just like nearly everything else. Try to be flexible and understanding to people working amid the changes to keep you healthy and your trip smooth. Some changes to air travel are improvements, and so long as you're prepared and ready for the other ones, you'll have a fun and safe holiday season.