A quartet of Spanish debuts for Marina Estrella at the 2014 Palma International Boat Show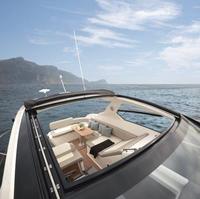 With just a few days remaining between now and the 31st edition of the Palma International Boat Show (30 April to 4 May), Marina Estrella can reveal that it will be showcasing four models never seen in the Balearics before – the Varianta 37, Atlantis 34 and 50, and the Moody 54DS.

Marina Estrella's Guy Norrish, comments, "When you handle the exclusive import and distribution of this many premium yacht brands: Azimut, Atlantis, Magellano, Benetti, Cobalt, Hanse, Moody, Sacs and Minorchino, in Spain and Portugal, it's inevitable that there will be a clutch of brand new models to debut each year. For 2014 we have two motor and two sailing boats to unveil to the Spanish market for the first time and, with the Varianta 37 starting from just 74,900 euros, there's certain to be something in our 13-boat line-up to pique everyone's interest."
The three-cabin Varianta 37 with her powerful two-spreader rig is an intentionally 'budget' model with excellent performance, super easy handling and world-class design by Judel-Vrolijk, but only essential fixtures and fittings to keep costs down. Claiming its world premiere at the Hamburg show in November 2013, this will be her first time in Spain and will appeal to sailors familiar with the superior Hanse build finish and hull design, but who will love the sub 80,000 euro price tag.
On to motor and the Atlantis 34 which won the 'Sportscruiser up to 45ft' category in this year's Motor Boat of the Year Awards presented in London. Rob Peake, Editor of Motor Boats Monthly, praised the way that clever cost savings had given: "ordinary motorboaters a chance to buy into one of boating's most exclusive marques." The new baby of Azimut Yachts Atlantis Collection, the 34 is incredibly sporty, offers fantastic acceleration and unbelievably positive steering.
Guy Norrish says, "The Atlantis 34 hasn't tried to be too clever and fit in lots of separate cabins, instead she's roomy and ideal for sunbathing, preparing lunch at anchor and overnighting for a family of four. None of the UK boat builders can get anywhere near her start price of 190,000 euros, charging twice as much for a similar length, if they make one at all. Even many day cruiser sports boats will be more expensive and won't have anything like her looks or features."
"The owner of the Atlantis 34 we're presenting at the Show has had all kinds of bigger boats in the past, in the 20 metre plus bracket, and is now a 'born again boater'. He really enjoys the fun of a boat that you can just hop on and go, whilst benefitting from the latest engine and hull design developments. Plus, it fits on a 10 metre mooring, so that's less than 10,000 euros a year for the privilege of berthing in Puerto Portals. Incredibly appealing."
Moving up to the Azimut Atlantis 50, the new big sister sporty coupé which also premiered in 2013's autumn boat shows. Able to accommodate four to six guests in two light-filled cabins (an optional third cabin can replace the dinette), the yacht has an electrically-operated hardtop, plenty of flexible sunbathing space and room for a 2.4 metre tender in the garage. She has a maximum speed of 32 knots and cruising speed 29 knots.
Finally, the Moody 54DS, first seen in Düsseldorf in January this year. Another from the Hanse stable (Moody was bought by Hanse Yachts in 2007), the 54DS is probably targeted at well-heeled retirees looking for their last 'forever' boat and can easily be sailed by two with no need for further crew. Cockpit and saloon are linked at one level, perfect for extended periods at sea, and the interior is semi customisable. Offering the kind of space normally expected on 65 foot yachts, the 54DS is highly manoeuvrable and offers great stability in mixed weather conditions. Marina Estrella will be showing a 54DS now belonging to a client from Chile.
Palma International Boat Show aside, 2014 is proving to be a landmark year for Marina Estrella with news of a buyout in January. French investment fund, Horche Partners, and new Spanish shareholders have come together to claim a majority stake in the 40-year established firm. Previously in the hands of the founding Estrella family, this cash injection allows the Company to consolidate its leading position in the import and distribution of the aforementioned premium yacht brands, as well as strengthening brokerage, charter and services divisions, committing to international development and marina management, with several projects already under evaluation. Marina Estrella's CEO Francisco Rivas, former Rodman CEO and President and Founder of Spanish marine industry association ANEN, will continue in his role.
For more information on Palma International Boat Show 2014, visit marinaestrella.com.