Boutique Hotel Le Nuvole opens in Genoa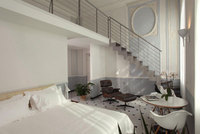 The historic port city of Genoa on the Italian Riviera has opened the doors of a brand new boutique hotel. Hotel Le Nuvole, located in Genoa's UNESCO World Heritage Old Town, is built inside the walls of 16th century Lamba Doria Palace and offers a luxury stay in a historic setting.
Hotel Le Nuvole spans the fourth floor of the Lamba Doria Palace and has 12 stylish bedrooms ranging from classic rooms to junior suites. The hotel's modern, paired down style is juxtaposed with traditional palatial elements of high ceilings, 18th century wall and ceiling frescos, marble floors and even original wooden shutters. The reception is framed by a 16th century marble portal covered in mythological figures and the hotel is even home to an 18th century chapel.
Le Nuvole is steeped in history as the palace is part of the 'Palazzi dei Rolli', the collective name given to 42 magnificent palaces located in Genoa's historic centre, built between the 16th and 17th centuries. The palaces were home to Genoese nobility for centuries and would have hosted royalty and cardinals during state visits. The Lamba Doria palace façade is covered in 17th century frescoes depicting six distinguished Genoese characters, which are thought to be of the family who originally owned the palace.
Ideally located in the historic centre, guests can wander the winding narrow streets or 'caruggi' from the hotel and explore the various palaces and stunning churches. Opposite the hotel is one of the most important churches in Genoa, the Basilica dell Vigne and less than a five minute walk away is San Lorenzo Cathedral, the National Gallery housed in the Palazzo Spinola, the palace filled Via Garibaldi and the port, which has recently been re-designed by Shard architect Renzo Piano.
Overnight stays at Le Nuvole start from £70 for a standard double room and £104 for a suite including a Ligurian style breakfast. Genoa is accessible with British Airways flights from London Gatwick with return prices starting at £104 return.
For further information or bookings, visit hotellenuvole.it.