Welcome to the World's Best Beach Parties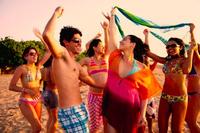 Spring has officially sprung here in the UK and there's nothing like a little taste of sunshine to get you in the mood for a summer getaway. For today's young travellers, relaxing on a sun lounger just isn't enough, escaping to a warmer climate is all about the beach party.
Across Asia, the Americas and Europe, there are hundreds of backpacking havens promising white sand and crystal blue water by day, and a pumping party scene by night, but which ones can guarantee you the best beach party experience?
HostelBookers.com has created a new series of Travel Inspiration Lists starting with the 'World's Best Beach Parties'. The list will guide party animals across the globe offering advice on where to let loose without breaking the bank. After all, money saved on your accommodation means there will be more cash to splash on having a fabulous time.
Wherever you choose to go for some beach raving mischief, Hostelbookers.com will help you find the ultimate space to kick back and rest your head after a long night on the shores of the World's Best Beach Parties.
Destinations
Koh Pha Ngan, Thailand
Koh Pha Ngan is a must-see on the backpacker beach party trail. As well as being a Thai island paradise, it also boasts two huge parties every month. The legendary Full Moon Party explodes into action every third week of the month on Sunrise Beach in Haad Rin, while the smaller Black Moon Culture bursts to life on Ban Tai beach on the first week of the month. Both parties are aligned with the cycle of the moon.
Hostels in Koh Pha Ngan: Hostels start from £1.85 per person per night
Ibiza, Spain
Ibiza is the kingpin of beach party culture, hosting the biggest DJs and the loudest sound systems. Playa d'en Bossa is home to a long stretch of clubs including Ushuaia (home to a giant stage), Bora Bora and Coco Beach. Salinas beach has parties at Sa Trixna and Jockey Club, while Blue Marlin in Cala Jondal throws the island's most sophisticated bashes.
Hostels in Ibiza: Hostels start from £6.26 per person per night
Miami, USA
Take your party search stateside and head to Nikki Beach, an up-scale open-air club at the tip of Ocean Drive. At night you can expect house music and neon lights, beds for ocean-side relaxing and outdoor bars for ordering the club's famous mojitos. Inside, the club oozes elegance with all-white décor and parties that last until sunrise.
Hostels start from £21.07 per person per night
Goa, India
If paradise on earth is what you're after then consider a trip to Goa, India's smallest state. With a wealth of beautiful beaches lining the shores and a reputation for throwing some of the best open-air parties in the world, this former Portuguese colony is incredibly popular with backpackers. Head to Arambol for drumbeat dancing as the sun sets, or Palolem for white sands and a silent disco on Saturday nights.
Hostels in Goa: Hostels start from £1.97 per person per night
Mykonos Island, Greece
Super Paradise Beach is the island's very own sandy catwalk; chic crowds mean raving never looked so good. The beach is also home to a wild gay scene, and, if you're feeling adventurous, nobody bats an eyelid at nude sunbathing during the day. Pumping music starts in the early evening and there are plenty of outdoor bar stalls to keep the party going until dawn.
Hostels start from £8.35 per person per night
Boracay Island, the Philippines
Boracay is the next big backpacker party place – we suggest you go no before the secret's out. A paradise island in the Philippines, the party on Boracay's White Beach has to be experienced at least once, with fire dancers, live bands and drinks stalls set up. There are also plenty of bars, perfect for party-hopping.
Hostels start from £4.04 per person per night
Cancun, Mexico
A legendary spring break destination, Cancun is great for a break any time thanks to year-round Caribbean sunshine. Places like City Club on Playa Cabana hold regular beach parties with colourful cocktails, bikini competitions and you can often spot a celebrity or two milling around.
Hostels start from £3.01 per person per night
Surfers Paradise, Australia
The Gold Coast's most hedonistic spot lets you get your beach on by day and rave it up as soon as the sun goes down. Party animals will love the clubs and bars along Cavill and Orchid avenues, while school-leavers join in the fun on the three-week 'schoolies' festival from mid Nov-Dec.
Hostels start from £11.33 per person per night
Rio de Janeiro
Rio de Janeiro hosts three of the world's biggest parties: Rio Carnival held before Lent every year, New Year's Eve on Copacabana Beach and the mammoth Rock in Rio, which regularly attracts over one million festival-goers. Known as the "marvellous city" by locals, the city is one of the most fun-loving and colourful places on earth. Copacabana Beach hosts one of the world's biggest New Year's Eve parties, with over two million revellers descending on the sands to watch a spectacular 16-minute fireworks display. There are stalls selling cocktails, more Skol beer than you could ever hope to drink, and indoor bars and night clubs. Bar-hop to your heart's content.
Hostels start from £7.63 per person per night
From the World's Best Beach Parties to the most Luxury Hostels, HostelBookers Travel Inspiration Lists help travellers make their dream trip a reality, without draining their bank account.
For more information, visit hostelbookers.com/featured/beach-party/