Tapas Festival to trial new Ambrette dishes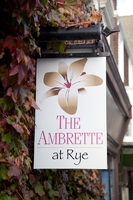 The critically acclaimed Ambrette restaurants in Margate and Rye, is using the growing trend toward 'sharing' and 'small plate' dining to trial a number of new dishes with a Tapas Festival' on Sunday 11th May.
With a frequently changing menu of unique creations, Ambrette customers are often presented with complex dishes with intense flavours and subtle spicing, that they will not have encountered before.
The test menu will allow diners to sample small portions in a casual tapas style, rather than a more traditional 3-couse format.
Many of the new dishes will be stews, casseroles and slow cooked with several more options which will be cooked 'a la minute'.
"Customers will be able to share and try a wide variety of dishes in a more laid back environment," said The Ambrette's chef patron Dev Biswal, who will be inviting constructive feedback on the dining experience with a view introducing the most popular items to its menus and making Tapas Festivals a more regular feature.

The Ambrette Tapas Menu will include appetisers at such as Crispy green fried okra and Lentil and shallot dumplings £3.95. Vegetarian offerings at £4.95 will feature Fresh aubergine filled with Kentish goat's cheese and mushroom with a sauce of cashew nut and mint. Among the fish dishes at £6.95 will be astern English channel Herring roe marinated in peppers and herbs cooked 'sous vide'. The meat options, also at £6.95, will have Slow cooked Kentish mutton, chanteney carrots with a Kashmiri style sauce of cinnamon and saffron. Desserts for £4.95 will include such delights as Coconut star anise pana cotta with fig and ginger ice-cream.
For more information, visit theambrette.co.uk.