Women splurge over £15k on anti-ageing creams to repair sun-damaged skin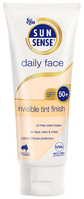 Millions of women in the UK invest over fifteen thousand pounds in a lifetime into cosmetic anti-aging creams to ward off wrinkles caused by the sun. Almost three thousand pots of cream are used by the average British female in a quest to undo the aging effects of the sun caused by not wearing a sunscreen, a survey reveals.
Despite almost eighty per cent of women who have been burnt on holiday more than five times, the most popular way to protect the skin from the aging effects of harmful UV rays is to apply wrinkle busting cream after sun exposure, rather than applying skin protection before the event.
SunSense carried out the research as part of a campaign to encourage women to incorporate sun protection into their daily skincare routine.
International beauty expert, Sarah Jagger who is an advocate of SunSense advises women on how to include sun protection as part of a daily beauty routine.
Sarah said, "The subtle tint in Daily Face is just enough to even out the skin tone without the need for a heavy makeup base. It's so understated (that even men can use it) and I love the way it has a retexturising effect on the skin that smooth's as it colour corrects! I like to use daily face instead of a primer and foundation because it's oil free and dries to a matt finish so it's great for anyone who finds other sunscreens too shiny or greasy. Simply smooth a large pea size amount over face and neck before using a concealer to camouflage dark circles under the eyes or onto any blemishes.
The SunSense range also includes some anti-ageing formulations.

Sarah added: "Sunsense Antiageing Matt formula is terrific for minimising shiny complexions. When I want to create a velvety-matt finish I layer Anti-ageing matt formula under an oil free foundation. These two steps are all you need to achieve a summer-proof makeup base that stands up to perspiration and shine. A must if you're going to be having photos taken!"
The SunSense range is available from leading independent pharmacies, John Lewis and Ocado.
Follow SunSense at facebook.com/SunSenseUK and twitter.com/SunSenseUK.