The Chobe Boardwalk & Deck, Chobe National Park, Botswana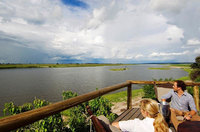 One of Africa's must do's. The Chobe Boardwalk & Deck - 250 meters of elevated boardwalk along the Chobe River in the Chobe National Park, home to the world's highest concentration of African Elephants. Renowned for views across the floodplain where herds of hundreds of Elephants congregate, the boardwalk ends at the 'Far Deck' where there is nothing between you and the wildlife; the only barrier is elevation.
Nestled around a Mahogany tree 10 meters above the river, the Far Deck, made using eco-friendly recycled timber plastics, is furnished with large couches, sun-umbrellas, dining areas and of course a fully stocked bar to enjoy the exceptional scenes unfolding before your eyes with the refreshing drink of your choice.
The Chobe Deck is likely to be the best vantage point in Africa to enjoy seeing the largest land mammals on earth roam the wild. Elephant herds congregating on the floodplain in front of the deck can reach over 300 individuals during certain times of the year.
Sable and puku antelope often graze the floodplains in front of the deck along with numerous giraffes and other antelopes. Civets and porcupines live below the boardwalk, buffalo are regulars and sightings of predators such as lion and leopard are not uncommon from the far deck either.

To experience the Chobe Boardwalk & Deck you need to book a stay at Chobe Game Lodge, the only lodge in the Chobe National Park riverfront. We recommend a stay of three nights or more so that you have a chance to take time out of your safari activity options to enjoy a peaceful afternoon on the Far Deck - one of Africa's most spectacular locations.
About Chobe Game Lodge

The iconic Chobe Game Lodge was the first and only lodge to be built in Botswana's world-renowned Chobe National Park riverfront and is considered the premier venue for guests looking for a perfect base to enjoy top-class safaris, both by boat and game-drive vehicles.

For more information, visit chobegamelodge.co.bw