Mansion to be restored as centrepiece of new homes plans for Sandhill Park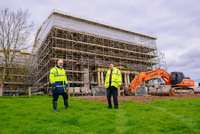 Plans are underway for the restoration of Sandhill Park with the Grade II listed mansion house set to be the centrepiece of a superb new development in this remarkable setting.
Taunton-based Strongvox Homes is planning to restore the historic park and create 28 luxury homes in the grounds while Devington Homes will transform the derelict mansion into 26 exclusive apartments.
Toby Ballard, managing director of Strongvox said, "It is great to be working on something so special and that will be of national significance. We have been working closely with English Heritage to ensure that the development will sympathetically complement its historic surroundings.''
"The development is in an unbeatable location and the homes will be of the highest quality".
"With the economy improving the market is strong and confidence in buying houses has boomed. As a Taunton-based company, we will be able to provide a lot of local employment during the course of the project,'' he added.
Lawrence Butler of Devington Homes said the company is looking forward to transforming the Grade II listed Georgian property, currently on the at-risk register. "This is a tremendously exciting project for us. We have a passion for restoring neglected, historic old buildings and recreating every last detail of the original design to provide unique and elegant homes. This is one of the finest properties we have had the opportunity to restore."
The Truro-based company has built a strong reputation on the restoration and conversion of majestic old buildings including Exminster Hospital near Exeter, The Grand Hotel in Plymouth and St. Clements Vean Workhouse in Truro.

Work at Sandhill Park is set to give the estate a new lease of life following a fire which destroyed much of the mansion. Ecological work is now being carried out on the site and Strongvox is looking to begin construction next month on a range of four and five bedroom homes.
Original parts of Sandhill Park date back to 1720 when it was built by John Periam, the MP for Minehead. Since then the property has been extended with new wings and a portico and the main house was remodelled in the 19th century.
Sandhill Park was sold in 1913 and uses since then have included a children's home, prisoner of war camp and military hospital.
The sensitive plans for the restoration of the main building have been designed to retain the character of the original building while work in the grounds will also return the extensive walled gardens to their former glory.
Anyone interested in the new homes being created can register their interest now online. Log onto strongvox.co.uk or sandhill-park.co.uk.