Make world-class saves in Brazil this summer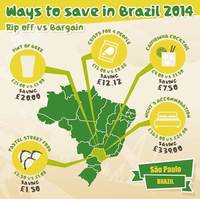 England fans heading to the World Cup in Brazil could save over £380 on holiday essentials by simply eating, drinking and shopping at the right places, according to foreign exchange specialists Travelex.
With some bars charging up to £21 for a pint of beer, England supporters in Brazil are at risk of being stung by inflated prices – but are advised to avoid nasty surprises by planning ahead.
Insights from Travelex's Grupo Confidence stores in Brazil have revealed that some holiday purchases are available at up to 2,000% less if you follow the local knowledge.
Sao Paulo, which will host the opening match and England vs. Uruguay on June 18th, is officially one of the most expensive cities in the world, with a pint of imported beer setting you back a whopping £21 in bars surrounding the Arena Corinthians stadium. But those happy to try the local Bohemia beer can find it as cheap as £1 – saving £20 on just one drink.
Similarly, those wanting to try the national cocktail of Brazil, the Caipirinha, can pay a bargain £1.50 (or 5.64 Brazilian Real) for the lime-flavoured drink from the stalls set up within the street markets popular with locals, or stump up a painful £9 if drinking in one of the tourist-trap hotels in Sao Paulo – a 452% difference in price.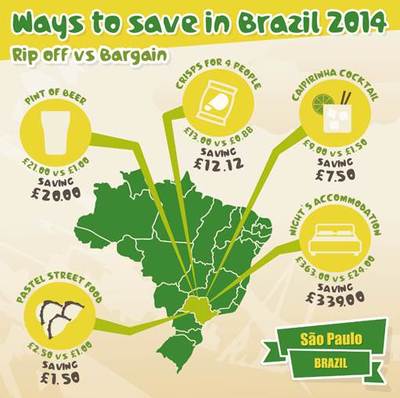 Accommodation is another concern, with recent newspaper reports claiming that prices are expected to soar by 500% over the World Cup matches . A double 'World Cup Room' in the L'Hotel Porto Bay São Paulo costs a hefty £363 on the night of the England match – yet the Hotel Marajá, less than a mile down the road, costs just £24 a night for a double at £339 cheaper.
Football fans who want to sample the local street food can try a Brazilian Pastel – a tasty thin-crust pie fried in oil. Those in-the-know head to the Estádio do Pacaembu market where the snack can be picked up for just £1 each. However, the tourist-focused Mercado Municipal market – just four miles away – charges two and a half times the price, at £2.50 per Pastel.
Those reaching for the nearest packet of crisps can also get stung. A bowl of crisps in your hotel lobby can cost 11.36 Brazilian Real (£3.25), putting a group of four back £13. By going to one of the Busco Brazilian supermarkets – just next to the Arena Corinthians – you can grab a whole bag of crisps for just 0.78 Real, or 22p, meaning the same size group would make a saving of £12.12.
David Swann, from Travelex, comments; "Savvy footy fans who plan ahead can bag themselves extra spending money by purchasing their Brazilian Real when the Pound is strong. Currently at 3.49 per pound on Travelex.co.uk, the Real is offering great value to Brits, with £500 now buying 1,747 Real vs. just 1,424 Real last year. This means Brits have an extra £93 worth of currency to spend.
"Those looking for a cheaper alternative to using their credit or debit card should consider the Travelex Cash Passport Globe. It's a prepaid card, loaded with Pound Sterling, which only charges 2.49% on withdrawals and purchases, compared to 3-4% which is typical of debit/credit cards."
Product | Cheap | Expensive | Saving
Pint of Beer £1.00 £21.00 £20.00
Crisps (4 people) £0.88 £13.00 £12.12
Traditional Pastel street food £1.00 £2.50 £1.50
Night's accommodation £24 £363 £339
Caipirinha cocktail £1.50 £9.00 £7.50
Total Savings £380.12
England fan Tim Potter, who recently travelled to Brazil to check out the key World Cup destinations, gives the following advice: "There can be a lot of variation between banks in Brazil, even the larger chains, so you can't guarantee your prepaid card will be accepted everywhere. I found it useful to always carry cash on me – which also comes in handy for the abundance of market stalls and street vendors. Experimenting by eating locally-produced beer and market food is also a great way of keeping the costs down as they're always cheaper than imported goods – and of course it means you get to experience some of the true flavours of Brazil!"
Travelex's travel advice for fans travelling to Brazil
DO:
Purchase a Buy Back guarantee so you can exchange any leftover currency at the same rate you purchased at when you return to the UK
Keep cash handy – so you won't be caught short if you find your cards aren't accepted
If you're travelling with lots of cash you need to let the Brazilian government know why. Fill out an e-DBV form if you're taking more than R$10,000 (approximately £2, 860): edbv.receita.fazenda.gov.brX
DON'T:
Forget to take your passport out when exchanging money – you may need it to confirm your identity
Travel with large amounts of cash on you – although Sao Paulo is safe it does have its crimes, like any big city
Use your debit card at ATMs as this is often the most expensive way to exchange money as you're open to bad exchange rates as well as cash machine fees