Discover the unsung highlights of Malaysia and Borneo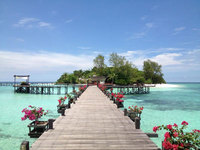 Spread across two geographically and culturally diverse terrains divided by the South China Sea, Malaysia is a fascinating destination that manages to combine the best of Southeast Asia.

Identified by Lonely Planet as one of the top countries to explore in 2014, Rickshaw Travel has recently introduced Malaysia as a stand-alone destination with a range of 27 private tour modules enabling independent holidaymakers to discover the real spirit of this fascinating land.

As a lasting legacy of its location along the trade route between India and China, Malaysian culture and cuisine are a rich fusion of exotic delights, making it an alluring place to spend time in.

Peninsular Malaysian, to the west, is traditionally the first port of call for visitors, whether arriving into its vibrant capital of Kuala Lumpur, known affectionately as KL, crossing over from its more crowded Thai neighbour or flying to Singapore island to its south. Malaysian Borneo, meanwhile, lies to the east where its states of Sabah and Sarawak share borders with Indonesia and surround the enclave of Brunei.

With so many travel styles to choose from, Rickshaw Travel has designed a series of 27 bite-size experiences ideal for adventure-hungry travellers eager to explore Malaysia and Borneo at their own pace. These independent tours take in the country's wealth of natural and cultural wonders, from multicultural cities to remote tribal villages, virgin jungle to dramatic mountain peaks, colourful festivals to world-famous dishes and unspoilt beaches to its tropical underwater paradise.

City-Exploring

As all the independent travel specialist's holiday options start in Kuala Lumpur, the 3-day Twin Towers & Chopsticks module provides a welcoming introduction to the Malay lifestyle. Here the Petronas Twin Towers may dominate the skyline but a trip up the KL Tower provides the best views across this small but buzzing metropolis. Prices start from £158pp based on two people sharing, including standard B&B accommodation, transfers and the KL Tower excursion or £198pp based on upgraded accommodation options.

City-lovers keen to escape the hustle and bustle of the cosmopolitan capital might prefer the 3-day Easy-Going Malacca: Warm Welcome on Wheels experience, which includes the chance to enjoy the old-world charm of Malacca on two-wheels. Prices start from £178pp based on two people sharing, including standard B&B accommodation in a boutique-style hotel, transfers and a guided cycling tour of the city or £285pp based on upgraded in-style accommodation in a hotel with a pool.

The Rickshaw Ride to the Temples of Penang provides an altogether different urban experience, stepping back in time to discover this charming city steeped in colonial history by trishaw. Considered a microcosm for Malaysia itself, with its great beaches, restaurants, wildlife and nightlife, prices start from £115pp based on two people sharing, including standard B&B accommodation in a boutique resort, transfers and a guided half-day trishaw city tour or £175pp based on upgraded accommodation in a heritage hotel for a truly special stay.

Off The Beaten Track

Most of the country is covered in dense rainforest, making a jungle adventure an essential ingredient of a Malaysian holiday. Taman Negara, Malaysia's biggest and most famous national park can be fully explored on the 4-day Canopy Walk and Jungle Boat trip, with the chance to wander through the treetops on a canopy tour 30ft above the ground by day and then hear the jungle come alive once the sun has set on a guided night walk. Prices start from £258pp based on two people sharing, including in-style B&B accommodation in a jungle lodge, transfers by bus and boat, a canopy walk and jungle night safari excursions.

For intrepid travellers keen to get further off the jungle path, the 4-day Campfire in the Jungles of Endau Rompin guarantees close encounters of the rainforest kind whilst learning survival tips from the Orang Asli indigenous people. Whilst venturing deep into the national park, the streams and waterfalls provide the perfect chance to cool off from the tropical heat before pitching up tent and dining under the stars. Prices start from £318pp based on two people sharing, including tent-based accommodation, transfers by minibus and boat, meals and camping equipment.

Those with the energy to summit the highest mountain in Southeast Asia will relish the Climbing Kinabalu trek up Mount Kinabalu, with stunning views across Borneo's Sabah region as a reward for having scaled the 4,000m peak. Prices start from £475pp based on two people sharing, including accommodation in rustic mountain cabins, transfers, park entrance fee and permit, an English-speaking guide and some meals.

The tranquil beauty of Malaysia lends itself perfectly to a relaxing break. For a change of scenery, the chilled-out atmosphere, swaying palms and gently lapping shores of its picture-perfect coastal areas will ensure batteries are fully recharged before heading home. Those looking to combine white-sand beaches with great restaurants might enjoy Lazing Around on Langkawi where prices for a 4-day break start from £185pp based on two people sharing. This includes standard B&B accommodation in a guest house and transfers or £295pp based on upgraded accommodation options, staying in-style in a beach resort.

For total beach bliss in wonderfully peaceful natural surroundings, however, the 4-day No Worries on Pulau Lang Tengah offers the ultimate chance to unwind in one of the country's most sublime island hideaways. Malaysia's crystal-clear waters also form part of the Coral Triangle meaning many of its sites are regularly voted some of the best places to dive on the planet. Prices start from £225pp based on two people sharing, including B&B accommodation and boat transfers.

Animal Magic

Boasting some of the world's most diverse wildlife, Malaysia's breathtaking array of flora and fauna make it a nature-lovers paradise. In a remote northern corner of West Malaysia, far from the madding crowds, the pre-historic charms of Belum are ripe for discovering Monkeys in the Hidden Rainforest. Hiking through the pristine forest – one of the oldest rainforests in the world - will reveal gibbons, hornbills and perhaps even a wild elephant or a Sumatran Rhinoceros. Keep a good look out for the enormous Rafflesia flower too. Prices start from £208pp based on two people sharing, including B&B accommodation in a jungle lodge, transport by private car, a jungle trek and river boat excursion.

Malaysian Borneo is closely associated with Asia's only great ape, making the 3-day Orangutan and a Jungle Boat Cruise trip a rare opportunity to come face-to-face with this incredible species at the famous Sepilok Orangutan Rehabilitation Centre. Believed to be the most intelligent animal after humans, Orangutan translates as "person of the forest" and this module will also help travellers meet other primates, from Proboscis and Macaques, whilst marvelling at Sabah's magnificent flora and fauna. Prices start from £388pp based on two people sharing, including accommodation, most meals, bus and boat transfers, jungle river safaris and entrance fees. It's possible to combine this tour with a visit to Selingan to spot turtles as well as an extra night in a jungle lodge, with four days costing £435pp.

Cultural Immersion

Real Spirit is at the heart of every trip Rickshaw Travel organises; Rickshaw Travel has created a series of tours using a mix of authentic accommodation and homestays, to really get to know Malaysia's welcoming people. The At Home with the Malay travel option spends 3 days getting to experience traditional Malay hospitality and everyday life in the small town of Teluk Ketapang. Prices start from £178pp based on two people sharing, including one night in a homestay and one in a comfortable beach resort on a B&B basis, one lunch and dinner, transfers and a river safari.

For a taste of a tribal lifestyle on Borneo, At Home with the Headhunters provides a rare and unforgettable glimpse into the lives of the once feared Iban people and their longhouse homes. Venturing deep into Sarawak's Batang Al National Park, the families invite their traveller guests to participate in their daily lives, from fishing to home-cooked meals. Prices start from £275p based on two people sharing, including accommodation in a rustic jungle lodge, most meals, transfers, a jungle walk and a longhouse visit.

Haydn Wrath, MD of Rickshaw Travel, said: "As one of Southeast Asia's safest and most intriguing countries, Malaysia's incredible array of cultures, landscapes and wildlife lend themselves perfectly to independent exploration. In many respects, the beauty of travelling here is that you can enjoy two countries in one, with Peninsular Malaysia and Borneo both offering very distinct but equally magnetic appeals.

"We know that our guests appreciate the chance to get under the country's skin and discover a country's real spirit and that where you stay can play a key role in this. We have therefore carefully picked our range of characterful accommodation options so that travellers can devise their perfect Malaysian itinerary, meaning they could choose to stay in a jungle lodge one night and a rustic beach bungalow the next."

Rickshaw Travel's Malaysia tours are available all year round, with the East Malaysia options only available during the dry season (March to mid-October).
For a full range of modules and itineraries to Malaysia, visit rickshawtravel.co.uk.