Rare breed tasting menu paired with bio dynamanic wines at The Ambrette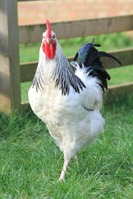 The critically acclaimed Ambrette restaurants in Rye and Margate will serve a special tasting menu using meat from rare breeds, coupled with wines produced using principles of biodynamic agriculture.
The six course meal, costing £49.99 a head, will be available at The Ambrette @ Rye on Sunday 1st June and again in Margate on 8th June. It is hoped that the feasts will help educate the public to the gastronomic and environmental benefits of consuming rare breeds and biodynamic wines.
Rare cattle and poultry breeding stocks typically number from a few hundred to a few thousand animals. Between 1900 and the 1970s, 26 native breeds of farm animal - and with them their genetic diversity – became extinct. Native breeds evolved according to the conditions their local environment. They thrive on poorer soils, are more hardy and require less veterinary intervention than commercially farmed breeds,
"Ironically, the only way to ensure the survival of these breeds is to eat them," said The Ambrette's chef patron Dev Biswal. "Encouraging the consumption of these breeds will help ensure the economic viability of dedicated, small scale farmers, who are committed to the highest standards of animal welfare and protecting the natural environment.
Older endangered breeds have been abandoned by modern industrial scale farms and supermarkets to a driven for increased margins at the expense of flavour. Rare breeds are often slow growing.
"It's because these animals are slow growing, raised outdoors and feed on a natural diet including wild herbs, that they have such a superior flavour," explained Biswal, adding, "They generally retain a slightly higher proportion of fat than mass produced animals."
The Rare Breeds Survival Trust (RSBT) has welcome news that The Ambrette is to showcase: "RBST is over the moon that chefs, such as Dev Biswal, are embracing rare breed meat in such a way and helping share their many positive attributes," said RBST's CEO, Tom Beeston.
Biodynamic wines are wines made using the principles of biodynamic agriculture, in growing, handling and processing of the fruit post-harvest. Biodynamic wine is a step beyond organic. No chemicals used in the vineyard and hard work ensure the vines are healthy and deeply rooted in the ecosystem. Pests are controlled by encouraging natural predators. Its origins date back to an Austrian farmer in the 1920s and the practice of biodynamics in viticulture has become popular in recent years including France, Switzerland, Italy, Austria, Germany, Australia, Chile, South Africa, Canada, and the United States. A number of top end commercial growers have converted recently to biodynamic practices. More than 450 biodynamic wine producers worldwide currently meet the stringent standards of the internationally recognised certifying body, Demeter.
The rare breed tasting menu will feature Golden Guernsey goat kebabs; Sussex chicken breast spiced with cinnamon and star anise; Slow cooked noisettes of salt marsh lamb with Kashmiri style sauce of cinnamon and saffron; Loin of Gloucester Old Spot pork, pan fried with a sauce of malt vinegar, garlic wine; Fillet of Hereford beef with a sauce of tamarind, garlic and Kent pears; with Orange caviar, mango and coconut panna cotta with rhubarb ice-cream to finish.
Each dish will be accompanied by specially selected biodynamic wine. These will be a Casa de la Ermita Joven Tinto Organic Monastrell; Terre di Vulcano Falanghina Benevento; Secret de Famille Cotes du Rhone Rouge Paul Jaboulet Aine; Springfield Estate Life from Stone Sauvignon Blanc; Morgon Marcel Lapierre; and Organic monbazziac.
The Ambrette @ Rye is located in the historic White Vine House 5 AA star rated boutique hote, which is offering a £30 discount on its standard room tariff for those ordering the rare breed menu.
Those interested in seeing rare breeds at close hand are able to visit the South of England Rare Breeds Centre near Ashford in Kent.
More information at theambrette.co.uk.