How does your garden grow? Helpful advice promises a bumper crop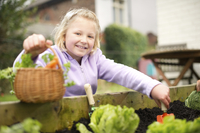 Leading housebuilder Taylor Wimpey South East is urging homeowners to flex their green fingers and get growing!
The popularity of 'grow your own' is on the rise, with the proportion of all fruit and vegetables which were grown in gardens or allotments now accounting for 5% of all fresh produce consumed in the UK.
With the growing season now under way, Taylor Wimpey South East is offering some handy tips to help would-be gardeners reap the rewards of what they sow.

Consider how much time and effort you want to devote. For example, tomatoes require frequent staking and training, while asparagus almost looks after itself.

Most vegetables grow best in a sunny position. Try and choose a position away from large trees and hedges, as these will compete with your veg for water and nutrients, as well as casting shade.

Most seeds won't germinate below a soil temperature of about 7C. One way to speed this up is to warm the soil by putting cloches, clear plastic sheeting or even bottomless plastic bottles over the soil a few weeks before sowing. The protection should be kept in place over the seeds and plants for a few weeks or until the weather warms up.

For healthy, strong growth and the highest yields of the best crops your plants will need a constant supply of water at the roots.

Some crops, such as greenhouse crops and runner beans, and most seedlings will suffer a shock if watered with cold water, so allow it to reach ambient temperature before using.

Feeding with a fertiliser will usually be necessary. For most crops, add a general fertiliser a week or so before seed sowing or planting out.

If perennial weeds become a problem, either dig them up or hand weed, or use a glyphosate-based weedkiller.

Crop rotation helps prevent the build-up of soil-borne pests and diseases.
Jason Stokes, Regional Sales and Marketing Director for Taylor Wimpey, says: "A private garden can provide a tranquil oasis away from the hustle and bustle of modern family life and the gardens at our new-build homes are a blank canvas on which homebuyers can create their own design, including an area for growing their own produce.
"I would encourage prospective purchasers to come and visit one of our developments to discover the outside space they could soon be enjoying with one of our stunning new homes."
Further information about Taylor Wimpey homes in the region is available by visiting taylorwimpey.co.uk.