Grow your own this season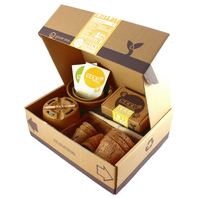 Summer is just around the corner and to help you start growing your own, Seed Pantry has launched a delightful new Mini Summer Allotment Starter pack containing everything you need to set up your own mini allotment.
Ideal for those with smaller gardens, patios, balconies, this allotment seed kit is perfect for budding gardeners, those new to growing their own and green-fingered chefs. With a fantastic selection of eight gourmet summer veg and salad leaf varieties, these easy to grow seeds will bring delicious, fresh flavours to summer dishes and recipes.
The kit contains seeds to grow carrots, peppers, peas, courgettes, rocket salad leaves, lolla rossa lettuce, spring onions and radishes and is a great way to get the whole family involved in growing fresh veg, herbs and salads.
The kit contains all the equipment you need to get started, including organic peat free compost (3L bag), an FSC oak dibblet, bio-degradable rice husk pots, coir seed trays, and seedling markets.
It arrives in a stylish Seed Pantry box, made using recycled packaging and printed with vegetable inks, containing easy-to-follow illustrated instructions and a handy notes pencil.
The carefully selected seed varieties grow well in containers on sheltered balconies, roof terraces, and back yards and, of course, in the veg patch and can be planted from as early as February.
Priced at £31, the Mini Summer Allotment Starter Pack is great for those new to gardening and experienced growers alike.
Seed Pantry founder, Neil Whitehead says: "Now is a great time to start planting, sowing and growing your own summer vegetables and salad leaves. Growing your own is set to be a huge trend again this year and the great thing is that you don't need a big garden as our Mini Summer Allotment kit is designed to be grown in small outdoor spaces.
"I passionately believe it's possible to grow high quality produce even in the smallest of urban spaces, so whether you are an experienced gardener or new to growing your own, home-grown, organic vegetables will taste amazing, are great value for money and give the whole family a sense of achievement when they are added to home-cooked dishes and recipes."
All kits are available now on seedpantry.co.uk.