Revolution to bring change to Clapham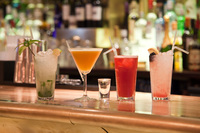 Revolution Clapham High Street and Revolution Clapham Junction will be the next two venues to receive a six figure investment to fund a complete renovation. These transformations aim to heighten Revolution's presence in the area as the leader in premium drinking and dining venues.
Clapham High Street Revolution, located just a stone's throw from Clapham North Station, was the first venue to go under this transformation, re-opening on Saturday 17th May, after being closed for two weeks. The venue showcases a brand new bar and dining space as well as a fully renovated first floor, the ideal spot for late night drinks.
Clapham Junction will also receive an extensive refurbishment, re-opening a week later on Saturday 24th May from midday. The focus of this refurbishment will be on improving the overall quality of the interior, whilst retaining the inherent charm, ample outdoor dining and drinking space.
With an increased demand for affordable, quality food, both Revolution venues will offer a brand new food menu served from 11am until 10pm, seven days a week. Focusing on relaxed dining, customers can choose from internationally inspired main dishes, stone baked pizzas, snacks and smaller plates – ideal for sharing. Brunch will also be a welcome addition to the menu, with High Street serving Saturday and Sunday and Junction serving all week.
Both bars will celebrate their respective re-launches with very special events starting from 5pm which will include a selection of canapés, as well as samples taken from the extensive cocktail menu - Revolution's largest offering to date. Guests will be hosted by the Revolution team and entertained by live music throughout the night including bands, percussionists and a host of resident DJs.
Sam Jones, brand manager said the success was already being reflected in customer feedback: "We're really excited about this next chapter for Revolution and the feedback to date has been outstanding. We're not just tweaking the brand - we're really transforming it with our outstanding newly launched food menu and a cocktail menu that cannot be rivalled. We are one of the only bar companies in the country who is investing to this extent and we're keen to ensure we are providing the best possible experience for our customers. We've already had many successful re-launches across the UK and our work in Clapham is a significant milestone to the process due to its importance to the business."