The rise of the prom king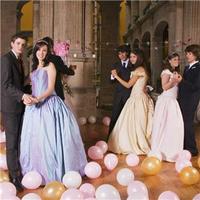 For the first time ever boys are spending nearly as much as girls on getting themselves ready for prom. according to retailer Debenhams.
Guys are spending on average 21% more prepping for their prom compared with 2013 - only £26.29 less than the average girl spends.
Debenhams' dinner suits are selling 60% more than they were this time last year, formal shirts and shoes are selling fast and demand for bow tie is up by 20% in recent weeks.
Lizzie Singleton, spokesperson for Debenhams says; "The amount a British guy will spend on getting prom-ready is now much closer to the total paid out by girls. "Young women seem to be better prepared - we have seen an increase in occasionwear sales since January, whereas guys have been rushing in last minute to get ready for the big night.
"It's no expense spared as girls shell out 27% more on prom dresses than they did two years ago. They are also favouring grown-up glamour with sales of luxury embellished gowns soaring by 250% compared with this time last year."
Male grooming products and treatments have also seen a big rise in demand; the rate of men coming in for spray tans has nearly doubled in the last month alone. There has also been a 37% increase in boys booking in for eyebrow threading appointments to give their 'guy-brows' the prom treatment.
Singleton continues: "prom fever has hit Debenhams and guys are going all out to look their best and it doesn't stop at the suit."Budding prom kings want to achieve a polished, groomed look and are turning to celebrities such as David Beckham and Daniel Craig for their 'promspiration'."
Stores in Scotland have seen the biggest increase in male formal wear and Liverpool has been inundated with young men booking in for spray tans over the last month.
Debenhams' personal shoppers are now offering prom consultations for guys who need a helping hand finding the perfect suit.
To meet the demand of budding prom Kings Debenhams has launched a complete tuxedo available for only £110. Debenhams formalwear is available in stores nationwide and online at Debenhams.com.