Sandals' set to break with tradition with overwater suites in Jamaica!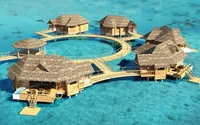 Sandals Resorts has unveiled incredible new renderings of the innovative, construction project planned for Sandals Royal Caribbean Spa Resort & Offshore Island. Sure to be a sensation, the Luxury Included resort is set to add five stunning Maldivian-style over-the-water suites to its private offshore island, scheduled to open next year.
Each of the suites will feature a private outdoor Jacuzzi tub and shower, a hammock for two hanging over the water, and steps leading from the sundeck straight into the ocean. The breathtaking interiors will boast 1,600 square feet of space, with a large walk in shower and indoor soaking tub. To enable guests to fully embrace the suite's 'over-the-water' setting, the living area will feature glass flooring, allowing them to view the clear water and marine life below – which will even be lit for night viewing.
All of the suites will also include personal butler service, courtesy of Sandals Resorts' exclusive partnership with the Guild of Professional English Butlers.
The resort's private island, the setting for the fantastic new suites, is located moments from the shore of the main resort, and features an authentic Thai restaurant and casual beachfront grill, a pool with a whirlpool and swim-up pool bar, and a secluded private beach.
Meanwhile, on the main resort guests can enjoy the five additional restaurants offering an array of gourmet culinary experiences, along with six pools and Montego Bay's most stunning white sand beach. What's more, all guests of Sandals Royal Caribbean can benefit from the resort's 'Stay at One, Play at Three' programme, giving them full access to all facilities and amenities of the other two Sandals resorts in the Montego Bay region, along with complimentary roundtrip transfers. This exclusive exchange programme means that guests can enjoy a total of 19 restaurants, 12 pools and 12 bars during their stay.
For more information on Sandals Resorts or to book your Luxury Included holiday, visit sandals.co.uk.