Maggie's serve an ace for The Queen's Club members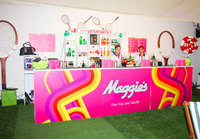 This summer season's clear winner looks set to be the Maggie's Enclosure at the internationally renowned Aegon Championships at The Queen's Club. The team behind the 1980s-inspired Chelsea nightclub will create the ultimate retro player's lounge complete with ping pong table, 80s arcade games, oversized wooden rackets and ball shaped bean bags and bespoke Tanqueray No. TEN cocktails.
After winning widespread acclaim for their debut last year at Queen's, the Maggie's Enclosure will be even bigger and better this year. The quirky space will open from the moment the Championships start on Monday 9th June until its conclusion on Sunday 15th June. Features will include; Rubik's cube tables, a feature floor complete with tennis court markings, a vintage umpire's chair and even rollerskaters kitted out in tennis whites and Maggie's branded visors.
The talented bar team will serve up Tanqueray No. TEN based cocktails alongside Moët champagne and Asahi beer, while dressed in homage to the great 1980s tennis stars. Signatures serves (no pun intended) will include: Smack Daddy, a punch blend of Tanqueray No. TEN, Chambord, Passion Fruit Juice and Purée, Vanilla Syrup and topped with Prosecco, Purple Rain, a clear winner made with Tanqueray No. TEN, Elderflower, Blackberries, Apple Juice, Lime Juice and Prosecco, and, the tipple of champions, the much loved Maggie's Mug, made with Tanqueray No. TEN, Lemon Juice, Fresh Kiwi, Agave Syrup and Soda Water.
This year will also see defending Wimbledon and Queen's champion, Andy Murray take centre stage at the Championships again. Murray was born in 1987 and, as a child of the eighties, was a regular at the Maggie's Enclosure at the Aegon Championships last year when he wasn't wowing spectators on court. His close friend and a leading doubles player, Ross Hutchins will also take over as Tournament Director of this year after successfully beating Hodgkin's Lymphoma.
Maggie's is named after 1980s Prime-Minister-turned-icon Maggie Thatcher, club-goers can hear her famous speeches playing in the loos, while Thatcher memorabilia vies for space on the walls along with other iconic 80s images and paraphernalia. The music is a mixture of classics from the 1980s and modern pop, with cocktails ranging from Pina Coladas and Daiquiris to the unforgettable Babycham.
Maggie's is owned and operated by The Inception Group whose founders Charlie Gilkes and Duncan Stirling have also created Chelsea speakeasy Barts, Bunga Bunga, an Englishman's Italian, Bar, Pizzeria and Karaoke venue, which achieved widespread acclaim. Mr Fogg's, a Mayfair bar modeled on the home of Jules Verne's most famous adventurer, Phileas Fogg and Disco, an underground boîte inspired by the 1970s Manhattan disco movement. This spring they have launched Cocobananas, a Brazilian beach party themed nightclub, and this summer will launch Beaver Lodge, a cabin bar and dance saloon based on the winter cowboy log cabins found in Wyoming.
Game, Set, Maggie's at Queen's
The Maggie's Enclosure at The Aegon Championships
Monday 9th June - Sunday 15th June 2014
The Queen's Club, Palliser Road, London W14 9EQ
Maggie's: 329 Fulham Road, London, SW10 9QL
maggies-club.com