Europcar launch 'On Platform' service at Bristol Temple Meads railway station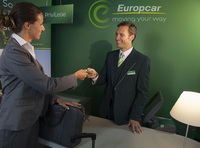 Europcar, car hire services in Europe for both leisure and business users, is making car hire more accessible than ever for customers in the West Country with its new service from Bristol Temple Meads railway station. Now customers can experience the ultimate in convenience with the Europcar service. As soon as they arrive at the station they will be able to access Europcar's new rental office on Platform 3 who will process their pre-booked hire vehicles so that they can continue their journey in comfort.
Bristol is a very popular tourist city and Bristol Temple Meads railway station is a great arrival point for visitors wanting to see more of the West Country. Now, with the Europcar 'On Platform' service, travellers can, like the iconic film, have a brief encounter at the railway station. And with its opening hours, staying open until 12pm on Saturdays and 5pm Monday to Friday, the Europcar Bristol Temple Meads service caters for a wide range of needs for leisure and business users.
"Our new service at Bristol Temple Meads railway station means that visitors to the region can get more out of their stay, so their trip to the West Country can be anything but a brief encounter", said Ken McCall, Managing Director, Europcar UK Group. "Bristol is a great city to visit, and from there tourists can also take in the multitude of regional attractions, using a hire car for stress free travel. It's also great for business people connecting to the flourishing business community in the region.
"Because we want to offer the ultimate convenience to all of our customers, we have established new rental services at a number of key locations around the UK, including ports, airports and stations. Our focus is on making car hire easy and convenient and this ensures that travellers have the best trip possible."
Europcar offers the most flexible pick up and drop off locations and services in the UK, utilising an outstanding fleet including vans, family and prestige vehicles. In addition to the extended opening hours for selected branches, Europcar's key airport locations remain open 24/7.
Ken McCall concludes, "As Europe's leading car hire company our goal is to provide motorists with convenience, choice, simplicity and quality as standard" concludes Ken McCall. "We are listening to their constantly evolving needs in order to be able to continually offer services to make their lives easier. And our service ensures we continue to bring our customers easy access to vehicle hire at key locations across the UK."