Reasons to head to the Belgian Coast this summer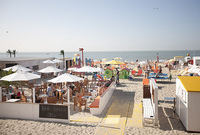 The Belgian Coast isn't the longest stretch of shoreline, but what the 42 miles of wide sandy beaches misses out in terms of size, is more than made up by what it has to offer. Catering for families, gastronomes and thrill seekers, this small expanse of Flanders has plenty on offer. Its allure is deceptive and many are surprised to find out that Marvin Gaye penned his classic hit "Sexual Healing" whilst living in the city of Ostend. All ten of the charming resorts dotted along this coastline, are conveniently connected by the longest tramway in the world and with the long days and short nights now upon us, there are plenty of reasons to visit this summer.

The Dutch-speaking region of Flanders is home to what is known as "De Kust" by most Belgians. Its first resort of De Panne is located just a few miles from the French border. It's a chic town with some fantastic eateries, not least the Hostellerie le Fox. A small, 11 room hotel, its restaurant is one of the most reputed on the coast for modern Belgian cuisine. Don't miss the Herring Festival at the end of June! For visitors with families, a trip to De Panne's most famous theme park is a must. Plopsaland Amusement park, with its roller coasters, fun rides and themed characters is a hit for children and families. Ample restaurant facilities and a new IBIS hotel in the vicinity makes this park a great family getaway. De Panne also boasts the widest beach on the Belgian coast and it therefore provides the ideal terrain for Sand Yachting (think surfboard with wheels and a sail) and kite surfing. The area even has its own Land Yacht School for thrill seekers. Any weather will do and the windier the better!

Driving north along the coast from De Panne will bring you to the coastal resort of Oostduinkerke. Wide sandy beaches adorn this seaside resort and it is also home to the Navigo National Fisheries Museum, an interactive attraction also containing an aquarium and showcasing the rich heritage of Flanders' fishing history. Don't miss a sumptuous lunch at the Estaminet "De Peerdevisscher", run by the wives of modern day fishermen, who serve up the perfect lemon sole. Famous horseback shrimping in the region was awarded UNESCO Intangible Heritage status in December 2013. Don't miss the annual Shrimpfestival and Pageant in late June.

Further along the coast is the resort of Blankenberge, home to the Sea Life water park, where 50 aquariums teaming with life can be discovered. Its newly opened tortoise expedition charting its evolution over 200 million years is particularly interesting. For adventure seekers, the Lustige Velodrome offers the opportunity for children to get their first taste of adventure fun-bikes. Ordinary cycle rental is also available to discover the pier at leisure.

Fashionable Nieuwpoort is known for its beautiful gardens and nature reserves. The Idea Garden connects garden via hiking trails. Ponds, idyllic scenery and areas to absorb the sun can be found en route. Alternatively, the nature reserve "De IJzermonding is the only place in Belgium where freshwater flows into salty seawater. Tidal changes create the perfect environment for sea organisms known as benthos to form. For thrill seekers, Nieuwpoort also offers an exhilarating mix of yachting and "Wavekarting" which is a new way to discover the sea, waves and sun. Learn all about the key role this coastal town had during WW1 at the Goose Foot Complex (Ganzenpoort) when its locks flooded plains, to prevent German troops from advancing further towards Ypres.

Ostend is the only city on the Belgian coast. It is also home to a rich history and culture. It offers a lively seafront, shopping opportunities, museums and Belgium's biggest casino, the Kursaal. The Fort Napoleon open museum, used in both World Wars is home to a fashionable restaurant with splendid views. Other museums include the Mu.ZEE – art museum at the sea, with an enviable art collection with works of art from its famous resident James Ensor. Other famous residents include Marvin Gaye who lived at the resort and where he penned his classic song "Sexual Healing", gaining inspiration from his time in the city. Experience the Marvin Gaye ipod Walk for the full story together with entry to most of Ostend's attractions and museums by purchasing its City Pass digital pass. The new Explorado Family adventure science park opened this month, combining fun learning with interactive exhibitions for children of all ages. This June, the sand sculpture festival moves to Ostend and its Disneyland Paris Sand Magic features famous Disney characters, skilfully crafted and sculpted in sand.

Further north is De Haan. This attractive belle époque styled resort has always been popular with holidaymakers - it was even home to Albert Einstein at one point! Attractive Anglo-Norman cottages add to the resort's charm.. Hire a bike to cycle on its beautiful promenade, also popular with locals. The popular family-friendly Sunparks resort is also located here. A few miles further is the busy port of Zeebrugge. Better known for docking cruise ships and ferries it also has a unique heritage walk, highlighting the history of the Flemish fisheries and the development of its harbour since the First World War. It is also home to the new IBIS Styles Zeebrugge hotel, offering great facilities including a pool and ideal for families.

Fashionable Knokke is the last of the resorts on the 42 mile expanse of the Belgian Coast. Known for its wide range of restaurants, Michelin-starred eateries to small cosy bistros, Knokke also boasts over 1,500 shops on the Lippenslaan. Hidden behind the seafront is a network of fashionable homes for the rich and famous. A beautiful nature reserve Het Zwin, dominates the area too. Art also dominates this resort and with its 67 galleries Art@Knokke-Heist is the perfect opportunity to view the galleries during its opening event taking place throughout the year.

There's not much that escapes this intriguing region of Belgium and with summer on its way, there's no better time to visit.
For more information, see visitflanders.co.uk.