London poised for inward business expansion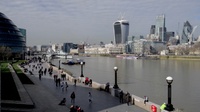 More than a third of organisations which visit London regularly on business say they are expecting to do more work in the UK capital in 2014 according to the results of a new survey published today.
The survey of more than 200 businesses released by luxury serviced apartment specialists Cheval Residences found that 35% of companies expect to carry out more business in London in 2014 than in 2013 and the same number said they expected to visit London more this year than last year. One in ten companies expect to do as much as 40% more business in London this year, while a similar number say they will do 20% more in the capital.
George Westwell director of Cheval Residences said: "The confidence of business organisations visiting London augers well for continued economic expansion in the capital. We've seen evidence of this confidence ourselves – we've just opened Cheval Three Quays a new multi-million pound luxury serviced apartment building next to the Tower of London in the heart of the city and we've beaten our first month's arrivals target already. We are also opening a multi-million pound property called Cheval Harrington Court in Kensington this summer. From our survey and own experience we know the majority of business travellers come to the capital for short stay conferences or meetings, but 5 per cent of our survey said they stayed for over a year and 3 per cent stayed for up to a month."
The survey for Cheval Residences is backed up by businesses and industry leaders. Patricia Yates, director of strategy and communications at Visit Britain, said: "The number of business visits to London is showing good growth. We saw a 20% increase in visits between 2009 and 2012 and we expect growth to continue in 2014. These business travellers are hugely valuable to Britain's economy. In 2012 there were 3.1 million international visits to London for business purposes alone and £2.7 billion was spent during those visits."
Deputy Mayor of London, Kit Malthouse has also recently reported in the past year: "our capital has been hailed the most visited city in the world, become top five destination for business tourism and been named one of the world's top hotel destinations. It is also on course to welcome all-time record numbers of tourists – over 16 million international visitors in a single year.
The survey for Cheval Residences was carried out by Censuswide, 90% of respondents were UK businesses, 8% European and the rest Middle East, North America and Asia. Of the businesses surveyed, the majority (60%) were attending London for conferences or meetings, a quarter were working for the London arm of their company, 23% said they were visiting the capital to showcase their business or organisation in London, 13% said they visited London to agree commercial terms with London businesses and 7% were visiting in order to set up a new business in the capital.
Eight out of ten business respondents said they stayed for fewer than seven nights but 5% said they stayed for more than a year at a time, 3% for up to a month and 8% for at least a week at a time.
More than a third said they visited London more than ten times a year, one fifth of companies said they visited between five and ten times a year and more than a third of respondents visited fewer than five times a year.