Hard Rock Hotel Ibiza reveals big name artists for debut summer season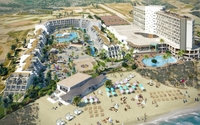 Hard Rock Hotel Ibiza has revealed some of the world's best-selling artists across a range of genres as the first acts to play at the hotel this summer, promising a show-stopping debut season for the newest hotel on the White Isle. International superstars Chic & Nile Rodgers, Ub40, robin Thicke, Icona Pop, JasonDerülo, Ellie Goulding, Kylie Minogue, Snoop Dogg and Placebo willgrace the outdoor stage of the first Hard Rock Hotel in Europe, which opened 18 May, as part of the hotel's series of musical events this summer.

Among the first to rock the hotel is iconic British reggae band UB40, who will be landing in Ibiza on 27 June during their sell-out 2014 UK and European tour. In its 30-year career, the legendary band from Birmingham has achieved huge international success and sold over 70 million records worldwide, with best-loved hits including debut single Food for Thought, One In Ten and Kingston Town. The reggae band topped the U.S. Billboard Hot 100 and the UK Singles Chart with both Red Red Wine and Can't Help Falling In Love, with the latter also included on the soundtrack of Hollywood blockbuster Sliver.

The following week, of-the-moment solo artist Robin Thicke will bring his energetic and dynamic performance style to Hard Rock Hotel Ibiza's Main Stage on 4 July. Throughout his long and illustrious career in the music industry, starting out as record producer and songwriter at the age of just 17, the American-Canadian singer-songwriter has worked with the biggest names in R&B and Hip-Hop, including Christina Aguilera, Usher, Snoop Dogg, Nicki Minaj, Estelle and Mary J Blige. Thicke is preparing to release his seventh album this summer, which follows the success of his sixth studio album, Blurred Lines, which debuted at Number One on both the UK and Scottish Album Charts in 2013. The title track featuring T.I and Pharrell spent five weeks at the top of the UK Singles Chart and has recently been named as the UK's biggest selling download of all time, with over 1.5 million downloads since its release in May 2013.

Swedish duo, Icona Pop, will hit Hard Rock Hotel Ibiza on 11 July with their unique and dramatic sound that is characterised by chanted choruses, the beating of bass drums and signature 'bittersweet' lyrics. The female twosome from Stockholm formed in 2009 and won international attention with their debut single Manners and EP Nights Like This, but it is with the hit I Love It that the duo have achieved global domination.

At neighbouring Ushuaïa Ibiza Beach Hotel, triple platinum R&B and dance singer-songwriter Jason Derülo is set to draw in fans from around the world on 25 July as part of an exciting collaboration with Hard Rock Hotel Ibiza. With over 30 million singles sold worldwide and over 1 billion views on YouTube, in just five years Derülo has proven to be a hot contender amongst pop and R&B's biggest hitters. His latest single Talk Dirty is his most successful track to date having sold over 5 million singles worldwide, with 150 million views on YouTube and climbing.

On 8 August, the distinctive and unforgettable sound of Ellie Goulding will echo around the property when the multi-talented English singer-songwriter arrives for an exclusive concert. Voted Best Female Solo Artist at the 2013 Brit Awards, the multi-platinum artist has sold over four million albums and 15 million singles worldwide, with most-played hits including her debut album's title track, Lights, her cover of Elton John's Your Song, and her first UK number one, Burn. Ellie releases her brand new single, Beating Heart, on 26 May, which is the latest in a string of huge singles from her second album Halcyon Days.

Tipped as the biggest hip-hop event of the Ibiza season,multi-platinum hip-hop and reggae icon Snoop Dogg will step up to Ibiza's iconic Ushuaïa stage on 15 August in another unique Hard Rock / Ushuaïa collaboration. Accompanied by DJ Sneak, Pete Tong and Brian Cross, this star studded union is already tipped to be one of the White Isle's star events of the summer.

Marking a quarter of a century in pop music in 2012, Kylie Minogue is a one of the world's most successful pop stars, counting 12 studio albums, over 40 Top 40 hits and 68 million record sales during her career so far. The Australian's repertoire of pop hits range from her debut single The Loco-Motion, released in 1987, dance hit Spinning Around from 2000 through to the title track of her 2014 album Kiss Me Once. Minogue will be joining Hard Rock Hotel Ibiza's party-goers for an exclusive concert on 22 August.

Also ready to roll at the new Hard Rock Hotel Ibiza is internationally acclaimed rock band Placebo for a concerton 12 September. Fresh from a huge world tour, which saw the band visit the USA, Europe and Australia between November 2013 and March 2014, Placebo is renowned for its remarkable live performances and a unique melodic trademark sound, which will get rock and rollers at the new hotel on their feet. Placebo has recorded seven studio albums to date, releasing the most recent, Loud Like Love, in September 2013 and has sold more than 12 million records worldwide.

This outstanding line-up will follow the inauguration of the Main Stage by Chic featuring Nile Rodgers, joined by legendary DJ duo Masters At Work and newcomer Brian Cross, at Hard Rock Hotel Ibiza's Official Grand Opening Party on 13 June, which will set the standard for a summer of superb live music and entertainment. With a blend of reggae, RnB, dance, pop and rock music already revealed to set the five-star hotel alight this summer, Hard Rock Hotel Ibiza will be the place to absorb the renowned musical heritage status of both the Hard Rock brand and the party island of Ibiza.

Watch this space for even more announcements…

'This Is Hard Rock…' events start at 6pm. Tickets are priced from 40€ and can be purchased at: ushuaiaibiza.com/tickets/

Rooms at Hard Rock Hotel Ibiza start from £194 based on two people sharing and includes breakfast.
For more information or to book, visit hrhibiza.com.