2 iconic t-shirts that changed rock-n-roll forever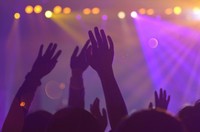 Rock-n-roll has never just been about the music; rock-n-roll is a lifestyle. A band t-shirt says a lot about your personality and interests.
You can trace back the last several decades' worth of fashion and style by taking a close look at the popular music of the time. And many rock groups, whether intentionally or not, embodied the spirit of the day by making excellent album cover and t-shirt artwork that became legendary pieces of popular culture.
We're looking at two iconic rock-n-roll t-shirts. If you don't already have them in your closet, you might want to consider adding these bad boys to your repertoire.
1. The Ramone's — The Presidential Seal Shirt
Over 40 years ago, a young punk band from Queens, New York called The Ramones, and their creative director, Artura Vega, were trying to think of band shirt ideas. Little did they know that the image they came up with would live on to sell in stores such as H&M and The GAP — not exactly punk rock, but it certainly has made a cultural impact!
The shirt's design is straightforward. Vega spent days trying to come up with the perfect plan for Joey and the boys. Knowing that the group was the underdogs of American culture, Vega decided to use irony for the new Ramones t-shirt and place an official presidential seal right in the middle of the band's names.
And now, people of all ages wear the shirt — from babies to baby boomers. Despite being worn by people who may not know of its punk and alternative roots, it still stands for a unique time in music history.
2. Nirvana — Smiley Tee
In 1991, a previously unknown grunge band from Seattle, Washington called Nirvana rose to worldwide fame with their album "Nevermind." One of the most influential bands of the last 30 years, Nirvana became the voice of a generation and continues to impress music lovers. There's been controversy over who created the very first smiley face, but some say it was former Geffen Records art director Robert Fisher who drew the blissed-out smiley face for the very first time.
Others say that Kurt Cobain himself drew the face to emulate what their early audiences looked like watching the band play on stage. However it came into fruition, the Nirvana smiley face has become one of the most iconic images in recent popular culture history. When you wear the black and yellow t-shirt, you're telling people that you appreciate culture-defining music, and you also don't like to follow the mainstream.
Make Your Own
Did you know that you could make your own iconic t-shirts? All you need are high-quality screen printing services and some creativity. If you have a band, you'll know that merch matters. Put your band's logo on t-shirts to sell online and at concerts. You'll benefit from profits and get your name out there.
Find a company that offers free estimates and delivery. That way, you'll know you're getting quality service from a company that cares.
Music, art, and fashion have always been the pillars of how culture progresses. And sometimes, it's the simple designs that become the most iconic!